Honda Accord: Lift and Support Points
NOTE: If you are going to remove heavy components such as suspension or the fuel tank from the rear of the vehicle, first support the front of the vehicle with tall safety stands. When substantial weight is removed from the rear of the vehicle, the center of gravity can change, causing the vehicle to tip forward on the lift.
Vehicle Lift
1. Position the lift blocks (A) under the vehicle's front support points (B) and rear support points (C).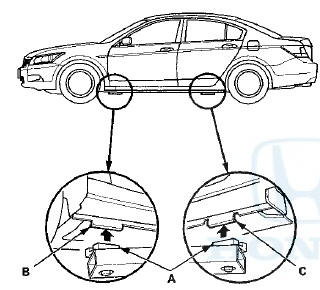 2. Raise the lift a few inches, and rock the vehicle gently to be sure it is firmly supported.
3. Raise the lift to its full height, and inspect the vehicle support points for solid contact with the lift blocks.
Safety Stands
To support the vehicle on safety stands, use the same support points as for a vehicle lift. Always use safety stands when working on or under any vehicle that is only supported by a jack.
Floor Jack
1. When lifting the front of the vehicle, set the parking brake. When lifting the rear of the vehicle, put the shift lever in reverse for manual transmission, or in the P position for automatic transmission.
2. Block the wheels that are not being lifted.
3. Position the floor jack under the front jacking bracket (A) or the rear jacking bracket (B). Center the jacking bracket on the jack lift platform (C), and jack up the vehicle high enough to fit the safety stands under it.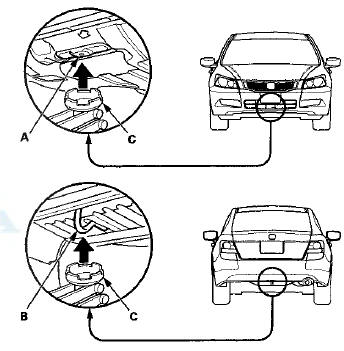 4. Position the safety stands under the support points, and adjust them so the vehicle is level.
5. Lower the vehicle onto the stands.
Emission Group Identification Example: 08 Model COMFORMS TO REGULATIONS: 2008 MY Test Group and Evaporative Family Test Group: Model Year 8: '08 9: '09 A: "10 Manufacturer Subcode ...
If the vehicle needs to be towed, call a professional towing service. Never tow the vehicle behind another vehicle with just a rope or chain It is very dangerous. Emergency Towing There are three ...
See also:
Important Safety Precautions
Refer to the safety information that came with your garage door opener to test that the safety features are functioning properly. If you do not have this information, contact the manufacture ...
Shift Lever Removal
1. Remove the center console (see page 20-158). 2. Move the shift lever to R. 3. Remove the nut securing the shift cable end. 4. Unlock the retainer (A). 5. Rotate the socket holder retain ...
Instruments and Controls
This section gives information about the controls and displays that contribute to the daily operation of your vehicle. All the essential controls are within easy reach. ...