Honda Accord: Fuel Pressure Test
Special Tools Required
- Fuel Pressure Gauge 07406-004000B
- Fuel Pressure Gauge Attachment Set 07AAJ-S6MA150
1. Relieve the fuel pressure (see page 11-306).
2. Attach the fuel pressure gauge set and the fuel pressure gauge.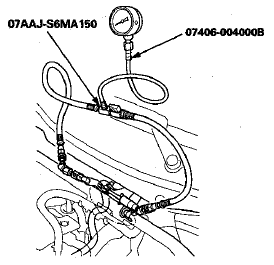 3. Start the engine, and let it idle.
- If the engine starts, go to step 5.
- If the engine does not start, go to step 4.
4. Check to see if the fuel pump is running: Listen to the fuel filler port with the fuel fill cap removed. The fuel pump should run for 2 seconds when the ignition switch is first turned to ON (II).
- If the pump runs, go to step 5.
- If the pump does not run, do the fuel pump circuit troubleshooting (see page 11-301).
5. Read the fuel pressure gauge. The pressure should be 333-382 kPa (3.4-3.9 kgf/cm2,48-55 psi).
- If the pressure is OK, the test is complete.
- If the pressure is out of specification, replace the fuel pressure regulator (see page 11-323) and the fuel filter (see page 11 -324), then recheck the fuel pressure.
Before disconnecting fuel lines or hoses, relieve pressure from the system by disabling the fuel pump, running the engine until it stalls, then and disconnecting the fuel line/quick connect fitting ...
1. Remove the fuel tank unit (see page 11 -320). 2. Using a hand pump, a hose, and a container suitable for fuel, draw the fuel from the fuel tank. 3. Reinstall the fuel tank unit (see page 11- ...
See also:
Piston Installation
If the Crankshaft is Already Installed 1. Set the crankshaft to bottom dead center (BDC) for each cylinder as its piston is installed. 2. Remove the connecting rod caps, then install the ring co ...
To Play a Disc
Select the changer by pressing the CD button. The system will begin playing the last selected disc in the disc changer. You will see the current disc position highlighted. To select a diffe ...
USB Flash Memory Device Error Messages (Models with navigation system)
If you see an error message in the center display while playing a USB flash memory device, find the solution in the chart to the right. If you cannot clear the error message, take your vehic ...