Honda Accord: Fuel Pressure Test
Special Tools Required
- Fuel Pressure Gauge 07406-004000B
- Fuel Pressure Gauge Attachment Set 07AAJ-S6MA150
1. Relieve the fuel pressure (see page 11-306).
2. Attach the fuel pressure gauge set and the fuel pressure gauge.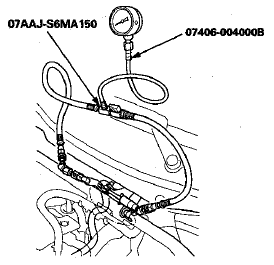 3. Start the engine, and let it idle.
- If the engine starts, go to step 5.
- If the engine does not start, go to step 4.
4. Check to see if the fuel pump is running: Listen to the fuel filler port with the fuel fill cap removed. The fuel pump should run for 2 seconds when the ignition switch is first turned to ON (II).
- If the pump runs, go to step 5.
- If the pump does not run, do the fuel pump circuit troubleshooting (see page 11-301).
5. Read the fuel pressure gauge. The pressure should be 333-382 kPa (3.4-3.9 kgf/cm2,48-55 psi).
- If the pressure is OK, the test is complete.
- If the pressure is out of specification, replace the fuel pressure regulator (see page 11-323) and the fuel filter (see page 11 -324), then recheck the fuel pressure.
Before disconnecting fuel lines or hoses, relieve pressure from the system by disabling the fuel pump, running the engine until it stalls, then and disconnecting the fuel line/quick connect fitting ...
1. Remove the fuel tank unit (see page 11 -320). 2. Using a hand pump, a hose, and a container suitable for fuel, draw the fuel from the fuel tank. 3. Reinstall the fuel tank unit (see page 11- ...
See also:
Folder Scan
This feature, when activated, samples the first file in each folder for 10 seconds. To scan a folder, press the SCAN side of the SCAN/ A. SEL bar repeatedly. You will see SCAN next to FOLDER ...
ECM/PCM Replacement
Special Tools Required - Honda diagnostic system (HDS) tablet tester - Honda Interface Module (HIM) and an iN workstation with the latest HDS software version - HDS pocket tester ...
If YouMust Drive with Several Children
Your vehicle has a back seat where children can be properly restrained. If you ever have to carry a group of children, and a child must ride in front: Place the largest child in the front se ...