Honda Accord: Front Seat Active Head Restraint Inspection
NOTE: If the vehicle has been in a collision, always inspect the active head restraint, even if they appear reusable, by doing the following procedure.
1. Driver's seat (manual height adjustable seat) /passenger's seat: Fold the seat-back forward, then recline the seat-back to the first lock position, and adjust the head restraint to the highest position.
2. Driver's seat (10-way power seat): Move the seat-back to the fully upright position. Raise the head restraint to the highest position.
3. Apply masking tape on the top of the head restraint.
4. Make marks (A) on both sides at 255 mm (10.0 in) upward from the roots of the head restraint frame (B) along the back of the head restraint (C) surface. Use the center point (D) between the two marks for the measurements in step 5.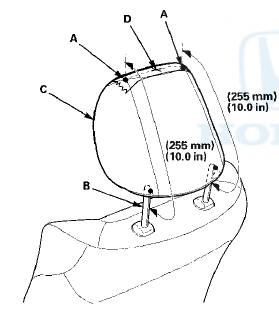 5. Push the head restraint (A) forward, and measure the horizontal head restraint movement. The head restraint should move more than 50 mm (2.0 in) without resistance. If it is less than 50 mm (2.0 in), or the head restraint does not move smoothly, replace the seat frame assembly: - Driver's seat (see page 20-208) - Passenger's seat: - 2-door (see page 20-211) - 4-door (see page 20-212)
Special Tools Required KTC Trim Tool Set SOJATP2014* *Available through the Honda Tool and Equipment Program; call 888-424-6857 SRS components are located in this area. Review the SRS component ...
See also:
Vehicle Identification Number
Manufacturer, Make, and Type of Vehicle 1HG; Honda of America Mfg., Inc. Honda passenger vehicle Line, Body, and Engine Type CS1: Accord Coupe/K24Z3 Body Type and Transmission Type 1: 2-door ...
Power Steering Hose, Line, and Pressure Switch Replacement
Note these items during installation: -Connect each hose to the corresponding line securely until it contacts the stop on the line. Install the clamp or adjustable clamp at the specified distance ...
Remote Transmitter Care
Replacing the Button Battery If the indicator does not come on when the button is pressed, replace the battery. NOTICE An improperly disposed of battery can damage the environment. Always confi ...