Honda Accord: Engine Oil Lewel Check
1. Park the vehicle on level ground, and start the engine.
Hold the engine speed at 3,000 rpm with no load (in N or P (A/T model) or Neutral (M/T model)) until the radiator fan comes on, then turn off the engine, and wait a few minutes. 2. Remove the dipstick, and wipe off the dipstick, then reinstall the dipstick.
3. Remove the dipstick, and check the engine oil level. It should" be between the upper mark (A) and the lower mark (B).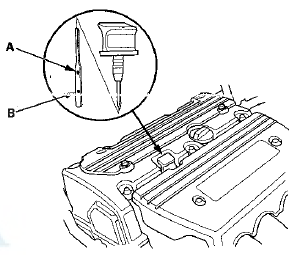 4. If the engine oil level is nearer below the lower mark, add the recommended engine oil to bring it between the upper and lower marks.
NOTE: If the low oil pressure warning indicator stays on with the engine running, check the engine oil level. If the oil level is correct, do the following test. 1. With the engine stopped, remov ...
1. Warm up the engine. 2 Remove the drain bolt (A), and drain the engine oil. 3. Reinstall the drain bolt with a new washer (B). 4. Refill the engine with the recommended oil (see page 3-2). ...
See also:
Clutch Master Cylinder Replacement
NOTE: - Use fender covers to avoid damaging painted surfaces. - Do not spill brake fluid on the vehicle; it may damage the paint or plastic. If brake fluid does contact the paint or plastic, ...
Remote Transmitter
LOCK - Press this button once to lock both doors. Some exterior lights will flash once. When you push LOCK twice within 5 seconds, you will hear a beep to verify that the doors are locked ...
All Children Should Sit in a Back Seat
According to crash statistics, children of all ages and sizes are safer when they are restrained in a back seat. The National Highway Traffic Safety Administration and Transport Canada reco ...