Honda Accord: Engine Oil Lewel Check
1. Park the vehicle on level ground, and start the engine.
Hold the engine speed at 3,000 rpm with no load (in N or P (A/T model) or Neutral (M/T model)) until the radiator fan comes on, then turn off the engine, and wait a few minutes. 2. Remove the dipstick, and wipe off the dipstick, then reinstall the dipstick.
3. Remove the dipstick, and check the engine oil level. It should" be between the upper mark (A) and the lower mark (B).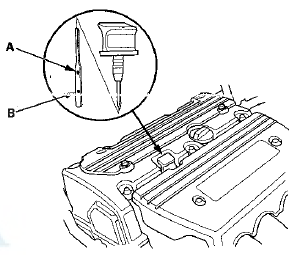 4. If the engine oil level is nearer below the lower mark, add the recommended engine oil to bring it between the upper and lower marks.
NOTE: If the low oil pressure warning indicator stays on with the engine running, check the engine oil level. If the oil level is correct, do the following test. 1. With the engine stopped, remov ...
1. Warm up the engine. 2 Remove the drain bolt (A), and drain the engine oil. 3. Reinstall the drain bolt with a new washer (B). 4. Refill the engine with the recommended oil (see page 3-2). ...
See also:
Under-hood Fuse/Relay Box
Removal and Installation Special Tools Required Relay Puller 07AAC-000A1A0 NOTE; The under-hood fuse/relay box is a part of the left engine compartment wire harness, and it cannot be replaced by ...
Brake Pedal Replacement
1. Disconnect the brake pedal position switch connector ( A ) . 2. Remove the lock pin (B) and the clevis pin (C). 3. Remove the brake pedal support member (D). 4. Remove the brake pedal bra ...
ATF Feed Pipe Replacement
1. Remove the snap rings (A), the ATF feed pipes (B), and the feed pipe flanges (C) from the end cover (D). NOTE: Replace the end cover, if the 1st clutch ATF feed pipe (E) replacement is require ...