Honda Accord: Engine Number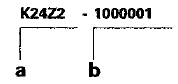 a. Engine Type
K24Z2: 2.4 L DOHC i-VTEC Sequential Multiport
Fuel-injected, 177HP engine
K24Z3: 2.4 L DOHC i-VTEC Sequential Multiport
Fuel-injected, 190HP engine
b. Serial Number
1000001 -": All models except PZEV produced in
Marysville
1400001 -": All models except PZEV produced in Saitama
1500001 - : PZEV produced in Marysville
1700001 - : PZEV produced in Saitama
a. Manufacturer, Make, and Type of Vehicle 1HG: Honda of America Mfg., Inc. Honda passenger vehicle JHM: Honda Motor Co., Ltd. Honda passenger vehicle b. Line, Body, and Engine Type CP2: Accor ...
Transmission Type 88E5: 5-speed Manual M91 A: 5-speed Automatic B90A: 5-speed Automatic Serial Number 1000001-: M91A, B90A 8000001-: 88E5 ...
See also:
Frame Brace Replacement
Strut Brace Replacement 1. Remove the cowl cover (see page 20-278). 2. Disconnect the brake booster vacuum hose (A) from the strut brace (B). 3. Remove the nuts from the top of the damper, and ...
Emissions Testing
Testing of Readiness Codes If you take your vehicle for an emissions test shortly after the battery has been disconnected or gone dead, it may not pass the test. This is because of certain ''r ...
Shift Lock System Circuit Troubleshooting
1. Connect the HDS to the DLC (A) located under the driver's side of the dashboard. 2. Turn the ignition switch to ON (II). Make sure the HDS communicates with the PCM. If it does not, go to the ...