Honda Accord: Engine Electrical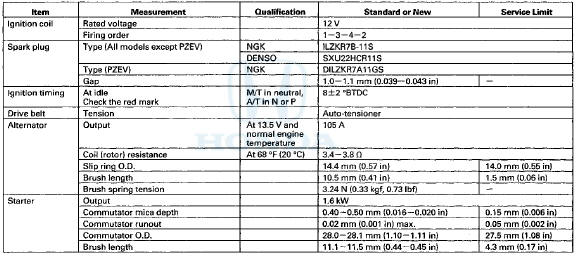 See also:
Countershaft Disassembly, Inspection, and Reassembly
1. Inspect the needle bearings for galling and rough movement. 2. Inspect the splines for excessive wear and damage. 3. Check the shaft bearing surface for scoring and excessive wear. 4. Lubr ...
DTC Troubleshooting
DTC B10A2: Driver's MICU (EEPROM) Error NOTE: If you are troubleshooting multiple DTCs, be sure to follow the instructions in B-CAN System Diagnosis Test Mode A (see page 22-134). 1. Clear the D ...
Power Transistor Test
1. Remove the passenger's dashboard undercover (see page 20-170). 2. Disconnect the 4P connector from the power transistor. 3. Measure the resistance between terminals No. 3 and No. 4 of the ...