Honda Accord: Disc Changer Error Messages (Models without navigation system)
The chart on the right explains the error messages you may see in the display while playing a disc.
If you see an error message in the display while playing a disc, press the eject button. After ejecting the disc, check it for damage or deformation. If there is no damage, insert the disc again.
The audio systemwill try to play the disc. If there is still a problem, the error message will reappear. Press the eject button, and pull out the disc.
Insert a different disc. If the new disc plays, there is a problem with the first disc. If the error message cycle repeats and you cannot clear it, take your vehicle to a dealer.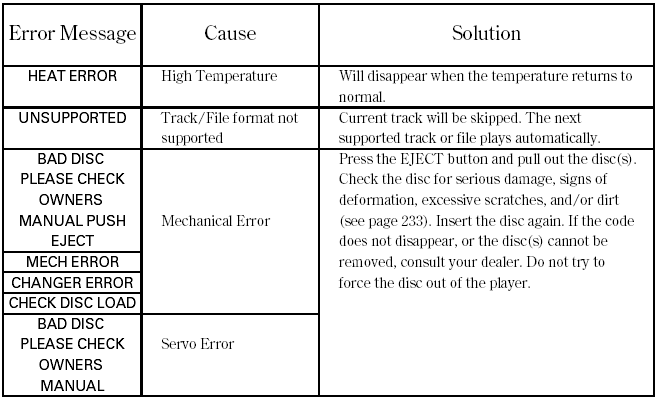 For information on how to handle and protect compact discs. ...
Playing an iPod (Models without navigation system) ...
See also:
Vents, Heating, and A/C
LX and U.S. EX Fan Control Turn this dial to increase or decrease the fan speed and airflow. Temperature Control Turning this dial clockwise increases the temperature of the airflow. Air Co ...
Valve Seat Reconditioning
1. Inspect the valve stem-to-guide clearance (see page 6-88). If the valve guides are worn, replace them (see page 6-88) before cutting the valve seats. 2. Renew the valve seats in the cylinder h ...