Honda Accord: Disc Changer Error Messages (Models without navigation system)
The chart on the right explains the error messages you may see in the display while playing a disc.
If you see an error message in the display while playing a disc, press the eject button. After ejecting the disc, check it for damage or deformation. If there is no damage, insert the disc again.
The audio systemwill try to play the disc. If there is still a problem, the error message will reappear. Press the eject button, and pull out the disc.
Insert a different disc. If the new disc plays, there is a problem with the first disc. If the error message cycle repeats and you cannot clear it, take your vehicle to a dealer.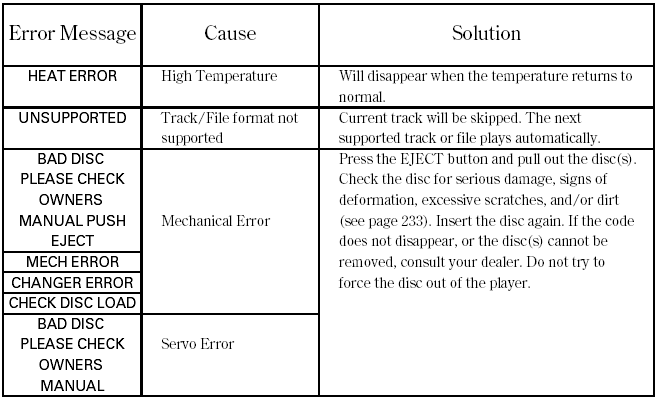 For information on how to handle and protect compact discs. ...
Playing an iPod (Models without navigation system) ...
See also:
Random Play
To play the tracks on the current disc in random order, select TRACK RANDOM, and press ENTER on the interface selector. As a reminder, you will see RANDOM next to TRACK on the screen. To tur ...
Audio-HVAC Display Unit Removal/Installation
Without Navigation NOTE; • Put on gloves to protect your hands. • Take care not to scratch the dashboard. 1. Remove the audio unit (see page 23-114) and the center display visor (see page ...
DVD-ROM Replacement
NOTE: • Check any official Honda service website for more service information about the navigation system and software updates. • Do not replace the DVD to give a customer a preview of an u ...