Honda Accord: Cruise Control Input Test
NOTE: Always make sure that you have the latest Honda Diagnostic System (HDS) software.
1. Connect the HDS to the data link connector (DLC) (see step 2 on page 11 -3).
2. Turn the ignition switch to ON (II).
3. Make sure the HDS communicates with the vehicle and the engine control module (ECM)/powertrain control module (PCM). If it does not communicate, troubleshoot the DLC circuit (see page 11-181).
4. Go to PGM-FI, and check for DTCs (see page 11-3).
5. Do the following tests while monitoring parameters in the PGM-FI DATA LIST with the HDS.
NOTE: Intermittent failures are often caused by loose circuit connections. While monitoring cruise control inputs, flex the circuit wires, and note if any of the test results change.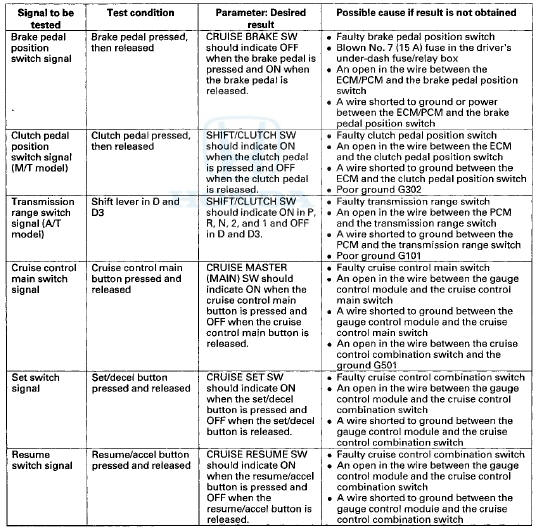 SRS components are located in this area. Review the SRS component locations: 2-door fsee page 24-23) 4-door (see page 24-21) Precautions and procedures (see page 24-25), in the SRS before d ...
See also:
Component Location Index
4-door 4-door 2-door 2-door ...
Clutch
...
Transmission Removal
Special Tools Required - Engine Support Hanger, A and Reds AAR-T1256* - Engine Hanger Adapter VSB02C000015* - Subframe Adapter VSB02C000016* *: Are available through the Honda Tool and Equipme ...