Honda Accord: Cruise Control Input Test
NOTE: Always make sure that you have the latest Honda Diagnostic System (HDS) software.
1. Connect the HDS to the data link connector (DLC) (see step 2 on page 11 -3).
2. Turn the ignition switch to ON (II).
3. Make sure the HDS communicates with the vehicle and the engine control module (ECM)/powertrain control module (PCM). If it does not communicate, troubleshoot the DLC circuit (see page 11-181).
4. Go to PGM-FI, and check for DTCs (see page 11-3).
5. Do the following tests while monitoring parameters in the PGM-FI DATA LIST with the HDS.
NOTE: Intermittent failures are often caused by loose circuit connections. While monitoring cruise control inputs, flex the circuit wires, and note if any of the test results change.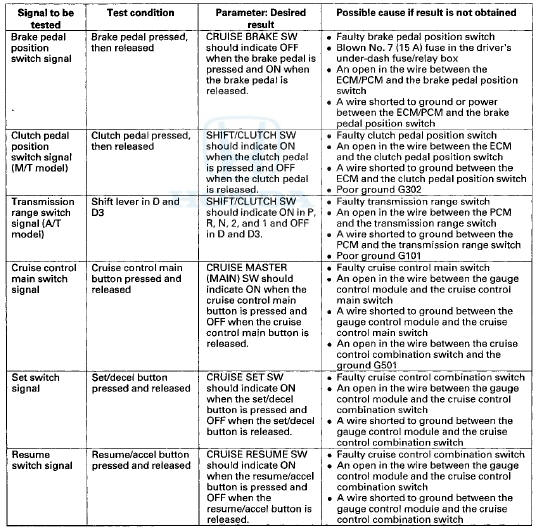 SRS components are located in this area. Review the SRS component locations: 2-door fsee page 24-23) 4-door (see page 24-21) Precautions and procedures (see page 24-25), in the SRS before d ...
See also:
Braking System
Your vehicle is equipped with disc brakes at all four wheels. A power assist helps reduce the effort needed on the brake pedal. The emergency brake assist system increases the stopping force ...
ODS Unit Replacement
Removal 1. Do t h e battery t e r m i n a l disconnection procedure (see page 22-91), t h e n w a i t at least 3 minutes before s t a r t i ng work. 2. Remove t h e f r o n t passenger's seat (s ...
If YouMust Drive with Several Children
Your vehicle has a back seat where children can be properly restrained. If you ever have to carry a group of children, and a child must ride in front: Place the largest child in the front se ...