Honda Accord: Clutch Hydraulic System Bleeding
NOTE: - Do not reuse the drained fluid. Always use Honda DOT 3 Brake Fluid from an unopened container. Using a non-Honda brake fluid can cause corrosion and shorten the life of the system.
- Make sure no dirt or other foreign matter is allowed to contaminate the brake fluid.
- Do not spill brake fluid on the vehicle; it may damage the paint or plastic. If brake fluid does contact the paint or plastic, wash it off immediately with water.
- It may be necessary to limit the movement of the release fork with a block of wood to remove all the air from the system.
- Use fender covers to avoid damaging painted surfaces.
1. Do the battery removal procedure (see page 22-92).
2. Make sure the brake fluid level in the clutch reservoir (A) is at the MAX (upper) level line (B).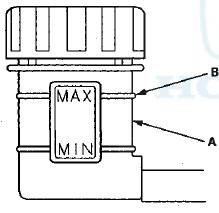 3. Attach one end of a clear tube to the bleeder screw (A), and put the other end into a container. Loosen the bleeder screw to allow air to escape from the system.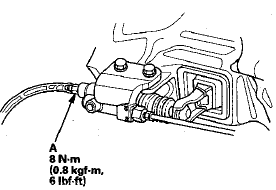 4. Make sure there is an adequate supply of fluid in the reservoir, then slowly push the clutch pedal all the way down. Before releasing the pedal, have an assistant temporarily tighten the bleeder screw.
Loosen the bleeder screw, and push the clutch pedal down again. Repeat this step until no more bubbles appear at the clear tube.
NOTE: Make sure the fluid level on the reservoir does not go below MIN.
5. Tighten the bleeder screw securely.
6. Refill the brake fluid in the reservoir to the MAX (upper) level line.
7. Do the battery installation procedure (see page 22-92).
Delay Orifice Mechanism Function The delay orifice mechanism improves clutch operation by delaying the slave cylinder release speed when the clutch pedal is suddenly released. The delay orifice m ...
NOTE: - For a cruise control problem, check the clutch pedal position switch (see page 4-45). - For a clutch interlock operation problem, check the clutch interlock switch (see page 4-9). - R ...
See also:
Receiving XM Radio Service
If your XM Radio service has expired or you purchased your vehicle from a previous owner, you can listen to a sampling of the broadcasts available on XM Radio. With the ignition switch in th ...
Trim Removal/Installation - Pillar Areas
Special Tools Required KTC Trim Tool Set SOJATP2014* *Available through the Honda Tool and Equipment Program; call 888-424-6857 A-Pillar Trim SRS components are located in this area. Review the ...
Rear Brake Pad Inspection and Replacement
CAUTION Frequent inhalation of brake pad dust, regardless of material composition, could be hazardous to your health. - Avoid breathing dust particles. -Never use an air hose or brush to clea ...