Honda Accord: Carrying Cargo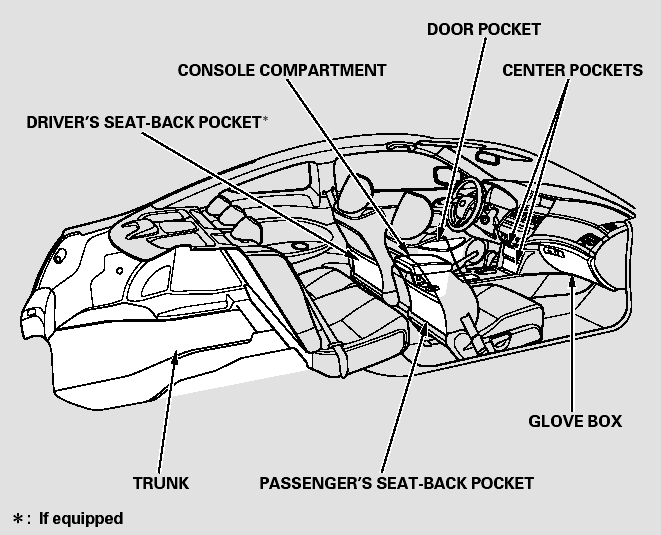 Your vehicle has several convenient storage areas:
Glove box
Door and seat-back pockets
Roof-rack (if installed)
Center pockets
Console compartment
Trunk, including the rear seat when folded down
However, carrying too much cargo, or improperly storing it, can affect your vehicle's handling, stability, stopping distance, and tires, and make it unsafe. Before carrying any type of cargo, be sure to read the following pages.
Removing parts from your vehicle, or replacing components with non-Honda components could seriously affect your vehicle's handling, stability, and reliability. Some examples are: Lowering th ...
The maximum load for your vehicle is 850 lbs (385 kg). See Tire And Loading Information label attached to the driver's doorjamb. Label Example This figure includes the total weight of all ...
See also:
Dashboard Center Lower Cover Removal/Installation
Special Tools Required KTC Trim Tool Set SOJATP2014* *Available through the Honda Tool and Equipment Program; call 888-424-6857 SRS components are located in this area. Review the SRS component ...
ATF Level Check
NOTE: -Keep all foreign particles out of the transmission. -Check the ATF level within 60—90 seconds after turning the engine off. -Higher ATF level may be indicated if the radiator fan com ...
Emergency Trunk Opener
The trunk release lever allows you to open the trunk from inside for your safety. Slide the release lever in the direction of the arrow. Parents should decide if their children should be sho ...