Honda Accord: Adjusting the Power Mirrors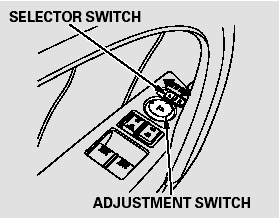 1. Turn the ignition switch to the ON (II) position.
2. Move the selector switch to L (driver's side) or R (passenger's side).
3. Push the appropriate edge of the adjustment switch to move the mirror right, left, up, or down.
4. When you finish, move the selector switch to the center (off) position. This turns the adjustment switch off to keep your settings.
Keep the inside and outside mirrors clean and adjusted for best visibility. Be sure to adjust the mirrors before you start driving. The inside mirror has day and night positions. The night p ...
All Canadian models U.S. EX, EX-L and all V6 models The outside mirrors are heated to remove fog and frost. With the ignition switch in the ON (II) position, turn on the heaters by pressi ...
See also:
Driver's Airbag Replacement
NOTE: If replacing the driver's airbag after deployment, refer to Component Replacement/Inspection After Deployment (see page 24-208) for a complete list of. other parts that must also be replace ...
Multi-View Rear Camera
About Your Multi-View Rear Camera The audio/information screen can display your vehicle's rear view. The display automatically changes to the rear view when the shift lever is moved to (R. The ...
Circuit Diagram
'08-09 Models With Navigation '10 Model With Navigation '08-09 Models Without Navigation '10 Model Without Navigation ...