Honda Accord: A/F Sensor Replacement
Special Tools Required
02 Sensor Wrench Snap-on S6176 or equivalent, commercially available
1. Disconnect the A/F sensor 4P connector (A), then remove the A/F sensor (B).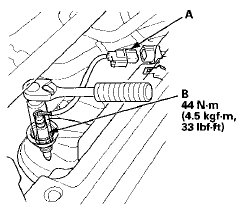 2. Install the parts in the reverse order of removal.
1. Relieve the fuel pressure (see page 11-306). 2. Remove the engine cover, 3. Disconnect the quick-connect fitting (A). 4. Disconnect the Injector connectors (B) and the engine mount control s ...
Special Tools Required 02 Sensor Wrench Snap-on S6176 or equivalent, commercially available 1. Disconnect the secondary H02S 4P connector (A), then remove the secondary H02S (B). 2. Install the ...
See also:
Fan Controls
Component Location Index Symptom Troubleshooting Index '08-09 models 10 model Circuit Diagram '08-09 models '10 model Radiator Fan Circuit Troubleshooting '08-09 models 1 ...
Trim Remowal/Installatlon - Rear Side Area
Special Tools Required KTC Trim Tool Set SOJATP2014* *Available through the Honda Tool and Equipment Program; call 888-424-6857 2-door SRS components are located in this area. Review the SRS c ...
Special Tools
* : Part of Mainshaft Inspection Tool Set, 07GAJ-PG20102. * * : Must be used with commercially available 3/8"-16 UNF Slide Hammer. * ...