Honda Accord: A/F Sensor Replacement
Special Tools Required
02 Sensor Wrench Snap-on S6176 or equivalent, commercially available
1. Disconnect the A/F sensor 4P connector (A), then remove the A/F sensor (B).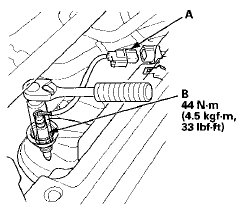 2. Install the parts in the reverse order of removal.
1. Relieve the fuel pressure (see page 11-306). 2. Remove the engine cover, 3. Disconnect the quick-connect fitting (A). 4. Disconnect the Injector connectors (B) and the engine mount control s ...
Special Tools Required 02 Sensor Wrench Snap-on S6176 or equivalent, commercially available 1. Disconnect the secondary H02S 4P connector (A), then remove the secondary H02S (B). 2. Install the ...
See also:
Park Lever Stop Inspection and Adjustment
1. Set the park lever in the P position. 2. Measure the distance (A) between the park pawl shaft (B) and the park lever roller pin (C). Standard: 57.7-58.7 mm (2.27-2.31 in) 3. If the measurem ...
System Description
fuel and Emissions S f stems Diagram 1.AIR FUEL RATIO (A/F) SENSOR (SENSOR 1) 2.SECONDARY HEATED OXYGEN SENSOR (SECONDARY H02S) (SENSOR 2) 3.MANIFOLD ABSOLUTE PRESSURE (MAP) SENSOR 4.ENGINE COO ...
Clutch Wave-plate Phase Difference Inspection
1. Place the clutch wave-plate (A) on a surface plate, and set a dial indicator (B) on the wave-plate. 2. Find the bottom (C) of a phase difference of the wave-plate, zero the dial indicator an ...