Honda Accord: A/F Sensor Replacement
Special Tools Required
02 Sensor Wrench Snap-on S6176 or equivalent, commercially available
1. Disconnect the A/F sensor 4P connector (A), then remove the A/F sensor (B).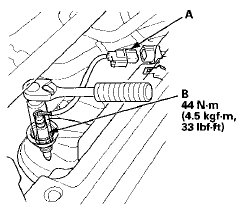 2. Install the parts in the reverse order of removal.
1. Relieve the fuel pressure (see page 11-306). 2. Remove the engine cover, 3. Disconnect the quick-connect fitting (A). 4. Disconnect the Injector connectors (B) and the engine mount control s ...
Special Tools Required 02 Sensor Wrench Snap-on S6176 or equivalent, commercially available 1. Disconnect the secondary H02S 4P connector (A), then remove the secondary H02S (B). 2. Install the ...
See also:
Recirculation Control Motor Test
NOTE: Before testing the motor, check for HVAC DTCs (see page 21-101). 1. Disconnect the 7P connector from the recirculation control motor. Incorrectly applying power and ground to the recirc ...
Towing
If the vehicle needs to be towed, call a professional towing service. Never tow the vehicle behind another vehicle with just a rope or chain It is very dangerous. Emergency Towing There are three ...
Servo Body Disassembly, Inspection, and Reassembly
1. Clean all parts thoroughly in solvent, and dry them with compressed air. Blow out all passages. 2. Inspect the valve body for scoring and damage. 3. Check shift valve D for free movement. I ...