Honda Accord: Wear Indicators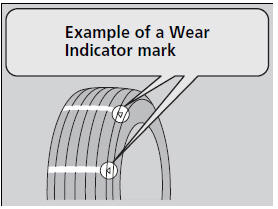 The groove where the wear indicator is located is 1/16 inch (1.6 mm) shallower than elsewhere on the tire. If the tread has worn so that the indicator is exposed, replace the tire.
Worn out tires have poor traction on wet roads.

High speed driving
We recommend that you do not drive faster than the posted speed limits and conditions allow. If you drive at sustained high speeds (over 99 mph or 160 km/h), adjust the cold tire pressures as shown below to avoid excessive heat build up and sudden tire failure.