Honda Accord: Trunk Main Switch*
The trunk main switch disables the trunk release button on the remote transmitter and the trunk release button on the trunk lid to protect luggage in the trunk.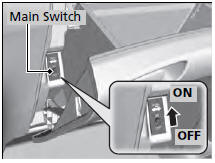 1. Make sure the rear seat-back is not folded down.
2. Turn off the trunk main switch in the glove box.
3. Lock the glove box.
4. Lock the trunk release.
If you need to give the key to someone else, remove the built-in key from the smart entry remote by sliding the release knob, and give the remote as a valet key.