Honda Accord: Motor Test
1. Remove the front seat back panel, and seat-back cover/pad.
• 4-door (see page 20-221) • 2-door (see page 20-213) 2. Disconnect the 2P connector (A) from the lumbar support motor (B).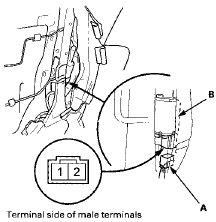 3. Test the motor by applying battery power and body ground to the terminals.

4. If the motor does not run or fails to run smoothly, replace it.
• 4-door (see page 20-202) • 2-door (see page 20-201)