Honda Accord: Interface Dial
Most audio system functions can still be controlled by standard buttons, dials, and knobs, but some functions can only be accessed using the interface dial. The interface dial has two parts, a knob and a selector.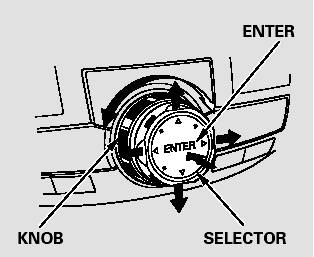 The knob turns left and right. Use it to make selections or adjustments to a list or menu on the screen.
The selector can be pushed left, right, up, down, and in. Use the selector to scroll through lists, to select menus, and to highlight menu items. When you make a selection, push the center of the selector (ENTER) to go to that selection.