Honda Accord: Audio with Touch Screen
Use the touch screen to operate the audio system.
• Selecting an Audio Source

Select Source, then select an icon on the source list to switch the audio source.
• Displaying the Menu Items

Select More to display the menu items.
Icons that appear on the screen vary by the source selected.
Select

to go back to the previous screen.
Use the

icons to turn the page.
• Changing the Clock/Screen Settings

Select

to adjust the clock and screen settings.
• Changing the Screen settings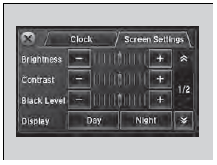 1. Select Screen Settings.
2. Use

or others to adjust the setting.
The followings are adjustable screen settings:
• Brightness
• Contrast
• Black Level
• Display
Changes between the daytime or nighttime modes.
• Beep
Mutes a beep that sounds every time you touch the screen.
• Keyboard
Changes the on-screen keyboard from the alphabetical order to the qwerty type.
• Blackout
Sets the screen black out timing.
Adjusting the Sound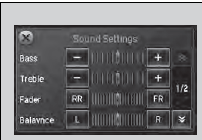 1. Select More, then Sound Settings.
2. Use

or others to adjust the setting.
Select Off, Low, Mid or High for the SVC setting.
• Displaying the Phone Operation Screen

Select

to switch to the phone operation screen.
The phone operation screen is available when a phone is paired to HFL.