Honda Accord: Winter Tires
If driving on snowy or frozen roads, mount all season marked M+S tires, snow tires, or tire chains; reduce speed; and maintain sufficient distance between vehicles when driving.
Be particularly careful when operating the steering wheel or brakes to prevent skidding.
Use tire chains, snow tires, or all season tires when necessary or according to the law.
When mounting, refer to the following points.
For winter tires:
Х Select the size and load ranges that are the same as the original tires.
Х Mount the tires to all four wheels.
For tire chains:
Х Install them on the front tires only.
Х Because your vehicle has limited tire clearance, we strongly recommend using the chains listed below: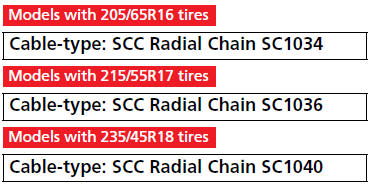 Х Follow the chain manufacturer's instruction when installing. Mount them as tightly as you can.
Х Check that the chains do not touch the brake lines or suspension.
Х Drive slowly.
WARNING
Using the wrong chains, or not properly installing chains, can damage the brake lines and cause a crash in which you can be seriously injured or killed.
Follow all instructions in this owner's manual regarding the selection and use of tire chains.
NOTICE
Traction devices that are the wrong size or improperly installed can damage your vehicle's brake lines, suspension, body, and wheels. Stop driving if they are hitting any part of the vehicle.
When tire chains are mounted, follow the chain manufacturer's instructions regarding vehicle operational limits.
If your vehicle is equipped with summer tires, be aware that these tires are not designed for winter driving conditions. For more information, contact a dealer.
Rotating tires according to the maintenance messages on the information display*/ multi-information display* helps to distribute wear more evenly and increase tire life. Tires with directional ...
See also:
Wind Deflector Replacement
NOTE: When prying with a flat-tip screwdriver, wrap it with protective tape to prevent damage. 1. Open the glass fully. 2. Remove the deflector links (A) from both sides. 3. Remove the wind ...
Instrument Panel
This chapter describes the buttons, indicators, and gauges that are used while driving. ...