Honda Accord: Special Tools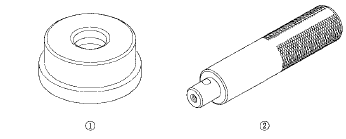 See also:
Automatic Transmission
Check the fluid level with the engine at normal operating temperature. 1. Park the vehicle on level ground. Start the engine, let it run until the radiator fan comes on, then shut off the en ...
Disc Repeat
To replay the current disc continuously, select DISC REPEAT, and press ENTER on the interface selector. As a reminder, you will see REPEAT next to DISC on the screen. To turn this feature off ...
Ball Joint Boot Inspection / Replacemen
Special Tools Required - Clip Guide, 45 mm 070AG-SJA0300 -Clip Guide, 41 mm 07974-SA50700 1. Check the ball joint boot for weakness, damage, cracks, and grease leaks. NOTE: - If the ball joint ...