Honda Accord: Playing the FM/AM Radio (Models without navigation system)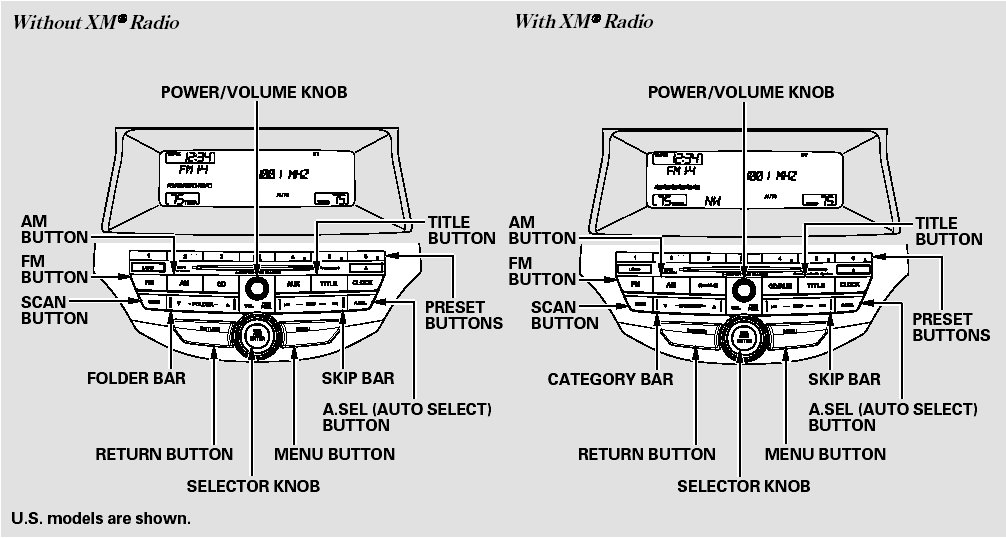 Playing the FM/AM Radio (Models without navigation system)
To select any setting such as the clock, sound adjusting, or the compass (if equipped), press the MENU button. To use any audio system function, the ignition switch must be in the ACCESSORY ...
The band and frequency that the radio was last tuned to are displayed. To change bands, press the AM or FM button. On the FM band, ST will be displayed if the station is broadcasting in stere ...
See also:
Close and Lock the Doors
After everyone has entered the vehicle, be sure the doors are closed and locked. Your vehicle has a door and trunk open indicator on the instrument panel to indicate when a specific door ...
Backlash Inspection
1. Install both axles into the A/T differential, then place the axles on V-blocks. 2. Check the backlash of the pinion gears (A) using a dial indicator (B). Standard: 0.05-0.15 mm (0.002-0.006 i ...
Clutch Wave-plate Phase Difference Inspection
1. Place the clutch wave-plate (A) on a surface plate, and set a dial indicator (B) on the wave-plate. 2. Find the bottom (C) of a phase difference of the wave-plate, zero the dial indicator an ...