Honda Accord: Playing the FM/AM Radio (Models without navigation system)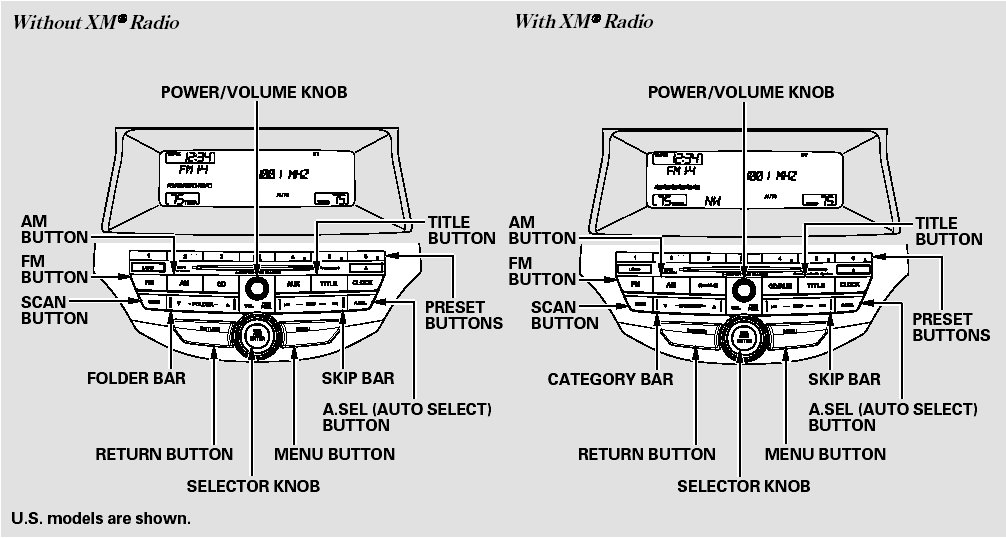 Playing the FM/AM Radio (Models without navigation system)
To select any setting such as the clock, sound adjusting, or the compass (if equipped), press the MENU button. To use any audio system function, the ignition switch must be in the ACCESSORY ...
The band and frequency that the radio was last tuned to are displayed. To change bands, press the AM or FM button. On the FM band, ST will be displayed if the station is broadcasting in stere ...
See also:
Clutch Fluid
Manual transmission only The fluid level should be between theMINandMAXmarks on the side of the reservoir. If it is not, add brake fluid to bring it up to that level. Use the same fluid spec ...
EVAP Canister Purge Valve Replacement
1. Disconnect the E V A P canister purge valve 2P connector ( A ) . 2. Disconnect the hoses ( B ) , then remove the I V A P canister purge valve ( C ) . 3. Install the parts in the reverse ord ...
General Troubleshooting Information
Intermittent Failures The term Intermittent failure means a system may have had a failure, but it checks OK now. If the malfunction indicator lamp (MIL) on the dash does not come on, check for poo ...