Honda Accord: Playing the FM/AM Radio (Models without navigation system)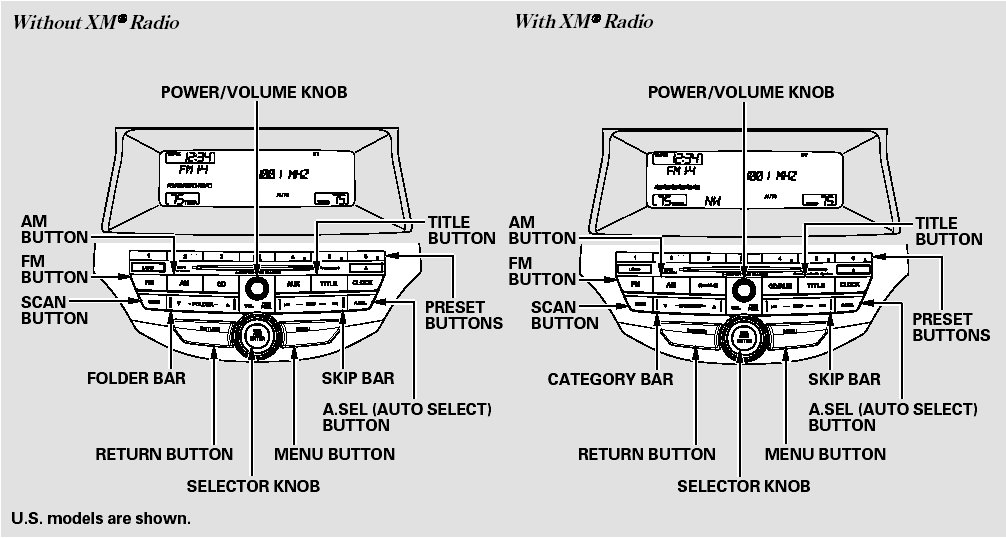 Playing the FM/AM Radio (Models without navigation system)
To select any setting such as the clock, sound adjusting, or the compass (if equipped), press the MENU button. To use any audio system function, the ignition switch must be in the ACCESSORY ...
The band and frequency that the radio was last tuned to are displayed. To change bands, press the AM or FM button. On the FM band, ST will be displayed if the station is broadcasting in stere ...
See also:
General Troubleshooting Information
Sf stem Indicator This system has four indicators; - ABS indicator (A) - Brake system indicator (B) - VSA indicator (C) - VSA activation indicator (D) When the system is OK, each indicator com ...
Component Location Index
With navigation system ...
Transmission Number
Transmission Type 88E5: 5-speed Manual M91A: 5-speed Automatic B90A: 5-speed Automatic Serial Number 2 0 0 0 0 0 1 M 9 1 A , B90A 8 2 0 0 0 0 1 8 8 E 5 ...