Honda Accord: Shift Lever Does Not Move

Follow the procedure below if you cannot move the shift lever out of the

position.
Х Releasing the Lock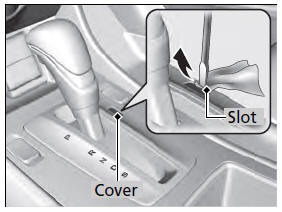 1. Set the parking brake.

2. Remove the key from the ignition switch.

2. Remove the built-in key from the smart entry remote.

3. Wrap a cloth around the tip of a small flattip screwdriver. Put it into the shift lock release slot as shown in the image, and remove the cover.
4. Insert the key into the shift lock release slot.
5. While pushing the key down, press the shift lever release button and place the shift lever into (N.
- The lock is now released. Have the shift lever checked by a dealer as soon as possible.
Х Jump Starting Procedure Turn off the power to electric devices, such as audio and lights. Turn off the engine, then open the hood. 1. Connect the first jumper cable to your vehicle's batte ...
How to Handle Overheating Overheating symptoms are as follows: Х The temperature gauge needle is at the mark or the engine suddenly loses power. Х Steam or spray comes out of the engine compar ...
See also:
ATF Feed Pipe Replacement
1. Remove the snap rings (A), the ATF feed pipes (B), and the feed pipe flanges (C) from the end cover (D). NOTE: Replace the end cover, if the 1st clutch ATF feed pipe (E) replacement is require ...
Idler Gear Shaft Removal and Installation
1. Remove the snap ring (A), the cotter retainer (B), and the 17 mm cotters (C). Do not distort the snap ring. 2. Remove the idler gear shaft/idler gear assembly (D) from the transmission housing ...
Trunk Lower Trim Replacement
4-door NOTE: - Put on gloves to protect your hands. - Take care not to scratch the trunk lid. 1. Remove the license plate from the trunk lid. 2. Remove the clips fastening the trunk lower t ...