Honda Accord: Safety Labels
Label Locations
These labels are in the locations shown. They warn you of potential hazards that can cause serious injury or death. Read these labels carefully.
If a label comes off or becomes hard to read (except for the U.S. dashboard label which may be removed by the owner), contact a dealer for a replacement.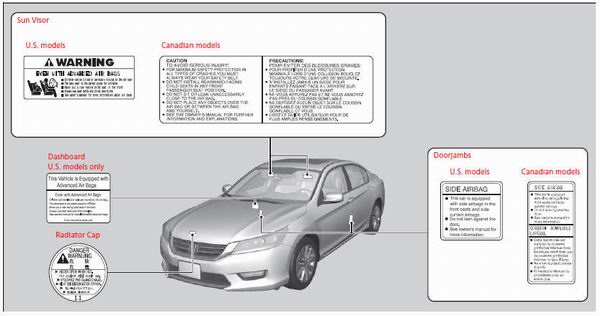 Carbon Monoxide Gas The engine exhaust from this vehicle contains carbon monoxide, a colorless, odorless, and highly toxic gas. As long as you properly maintain your vehicle, carbon monoxide ga ...
This chapter describes the buttons, indicators, and gauges that are used while driving. ...
See also:
Clutch Inspection
1. Inspect the 4th and 5th clutch pistons and the clutch piston check valves (A). 2. If the clutch piston check valve is loose or damaged, replace the clutch piston. 3. Check the spring retain ...
Audio Communication Line Circuit Troubleshooting
1. Turn the ignition switch to LOCK (0). 2. Disconnect climate control unit connector A (28P) and the audio-HVAC subdisplay (with navigation) or audio-HVAC display unit (without navigation) 12P ...
Clutch Pedal Position Switch Test
M/T model 1. Disconnect the clutch pedal position switch 3P connector (A). 2. Remove the clutch pedal position switch (B). 3. Check for continuity between the terminals according to the table ...