Honda Accord: Refueling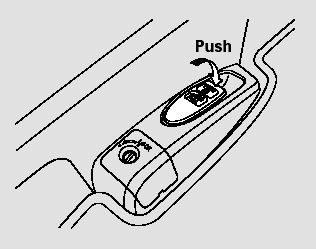 1. Park with the driver's side closest to the service station pump.
2. To open the fuel fill door, push down on the lever located to the left of the driver's seat.

Gasoline is highly flammable and explosive. You can be burned or seriously injured when handling fuel.
Stop the engine, and keep heat, sparks, and flame away.
Handle fuel only outdoors.
Wipe up spills immediately.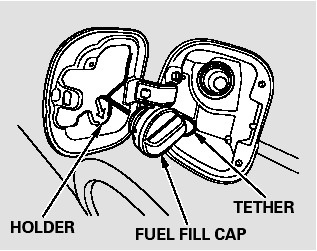 3. Remove the fuel fill cap slowly.
You may hear a hissing sound as pressure inside the tank equalizes.
The fuel fill cap is attached to the fuel filler with a tether. Place the cap in the holder on the fuel fill door.
4. Stop filling the tank after the fuel nozzle automatically clicks off. Do not try to ''top off'' the tank. This leaves some room in the fuel tank for the fuel to expand with temperature changes.
If the fuel nozzle keeps clicking off even though the tank is not full, there may be a problem with your vehicle's fuel vapor recovery system. The system helps keep fuel vapor from going into the atmosphere. Try filling at another pump. If this does not fix the problem, consult your dealer.
5. Screw the fuel fill cap back on until it clicks at least once. If you do not properly tighten the cap, you will see a ''CHECK FUEL CAP'' message on the information display. If the system still detects an evaporative system leak after retightening the cap, the malfunction indicator lamp may come on.
6. Push the fuel fill door closed until it latches.
Your vehicle is designed to operate on unleaded gasoline with a pump octane number of 87 or higher. Use of a lower octane gasoline can cause a persistent, heavy metallic rapping noise that c ...
Your vehicle's onboard diagnostic system will detect a loose or missing fuel fill cap as an evaporative system leak. The first time a leak is detected a ''CHECK FUEL CAP'' message appears ...
See also:
Playing Internet Radio
Connect a compatible phone through Bluetooth®. You can also connect the phone using your dock connector to the USB port. Make sure the audio setting is correct for the connection type. Select S ...
Fuel Pulsation Damper Replacement
PZEV model 1. Relieve the fuel pressure (see page 11-306). 2. Remove the engine cover. 3. Place a wrench (A) on the fuel rail (B). 4. Place a wrench (C) on the fuel pulsation damper (D), an ...
Throttle Body Test
Carbon Accumulation Check NOTE: If the malfunction indicator lamp (MIL) has been reported on, check for diagnostic trouble codes (DTCs). 1. Connect the HDS to the data link connector (DLC) (A) l ...