Honda Accord: Power Steering Fluid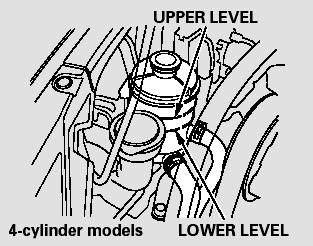 Check the level on the side of the reservoir when the engine is cold.
The fluid should be between the UPPER LEVEL and LOWER LEVEL.
If not, add power steering fluid to the UPPER LEVEL.
Pour the fluid slowly and carefully so you do not spill any. Clean up any spills immediately; it could damage components in the engine compartment.
Always use Honda Power Steering Fluid. You may use another power steering fluid as an emergency replacement, but have the power steering system flushed and refilled with Honda PSF as soon as possible.
A low power steering fluid level can indicate a leak in the system. Check the fluid level frequently, and have the system inspected as soon as possible.

Turning the steering wheel to f ull lef t or right lock and holding it there can damage the power steering pump.
Manual transmission only The fluid level should be between theMINandMAXmarks on the side of the reservoir. If it is not, add brake fluid to bring it up to that level. Use the same fluid spec ...
V6 models The timing belt should be replaced according to the Maintenance Minder TM. Replace the timing belt every 60,000 miles (100,000 km) if you regularly drive your vehicle in any of the ...
See also:
ECT Sensor 2 Replacement
1. Remove the front splash shield, (see page 20-291) 2. Drain the engine coolant (see page 10-6). 3. Disconnect the ECT sensor 2 connector (A), then remove ECT sensor 2 (B). 4. Install ECT sen ...
Cleaning the Seat Belts
If your seat belts get dirty, use a soft brush with a mixture of mild soap and warm water to clean them. Do not use bleach, dye, or cleaning solvents. Let the belts air dry before you use ...
Combination Light Switch Test/Replacement
1. Remove the driver's dashboard lower cover (see page 20-166). 2. Remove the steering column covers (see page 17-10). 3. Disconnect the 12P connector (A) from the combination light switch (B). ...