Honda Accord: Power Steering Fluid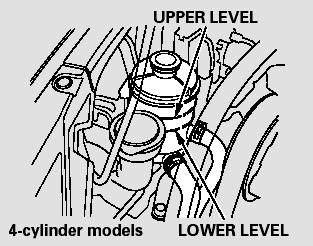 Check the level on the side of the reservoir when the engine is cold.
The fluid should be between the UPPER LEVEL and LOWER LEVEL.
If not, add power steering fluid to the UPPER LEVEL.
Pour the fluid slowly and carefully so you do not spill any. Clean up any spills immediately; it could damage components in the engine compartment.
Always use Honda Power Steering Fluid. You may use another power steering fluid as an emergency replacement, but have the power steering system flushed and refilled with Honda PSF as soon as possible.
A low power steering fluid level can indicate a leak in the system. Check the fluid level frequently, and have the system inspected as soon as possible.

Turning the steering wheel to f ull lef t or right lock and holding it there can damage the power steering pump.
Manual transmission only The fluid level should be between theMINandMAXmarks on the side of the reservoir. If it is not, add brake fluid to bring it up to that level. Use the same fluid spec ...
V6 models The timing belt should be replaced according to the Maintenance Minder TM. Replace the timing belt every 60,000 miles (100,000 km) if you regularly drive your vehicle in any of the ...
See also:
Emergency Trunk Opener
The trunk release lever allows you to open the trunk from inside for your safety. Slide the release lever in the direction of the arrow. Parents should decide if their children should be sho ...
Steering
...
Under-hood Fuse/Relay Box
Removal and Installation Special Tools Required Relay Puller 07AAC-000A1A0 NOTE; The under-hood fuse/relay box is a part of the left engine compartment wire harness, and it cannot be replaced by ...