Honda Accord: Power Steering Fluid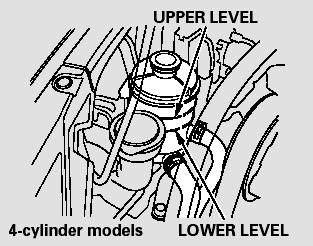 Check the level on the side of the reservoir when the engine is cold.
The fluid should be between the UPPER LEVEL and LOWER LEVEL.
If not, add power steering fluid to the UPPER LEVEL.
Pour the fluid slowly and carefully so you do not spill any. Clean up any spills immediately; it could damage components in the engine compartment.
Always use Honda Power Steering Fluid. You may use another power steering fluid as an emergency replacement, but have the power steering system flushed and refilled with Honda PSF as soon as possible.
A low power steering fluid level can indicate a leak in the system. Check the fluid level frequently, and have the system inspected as soon as possible.

Turning the steering wheel to f ull lef t or right lock and holding it there can damage the power steering pump.
Manual transmission only The fluid level should be between theMINandMAXmarks on the side of the reservoir. If it is not, add brake fluid to bring it up to that level. Use the same fluid spec ...
V6 models The timing belt should be replaced according to the Maintenance Minder TM. Replace the timing belt every 60,000 miles (100,000 km) if you regularly drive your vehicle in any of the ...
See also:
Front Inner Fender Replacement
NOTE: - Put on gloves to protect your hands. - Take care not to scratch the body. - When prying with a flat-tip screwdriver, wrap it with protective tape to prevent damage. 1. Remove the f ...
Parking Brake Switch Test
NOTE: if both the ABS/VSA indicator and the brake system indicator come on at the same time, check the VSA system for DTCs first (see page 19-48). 1. Remove the center console (see page 20-158). ...
DTC Troubleshooting
DTC B10A2: Driver's MICU (EEPROM) Error NOTE: If you are troubleshooting multiple DTCs, be sure to follow the instructions in B-CAN System Diagnosis Test Mode A (see page 22-134). 1. Clear the D ...