Honda Accord: Rear Brake Caliper Overhaul
Frequent inhalation of brake pad dust, regardless of material composition, could be hazardous to your health.
- Avoid breathing dust particles.
- Never use an air hose or brush to clean brake assemblies. Use an OSHA-approved vacuum cleaner.
Remove, disassemble, inspect, reassemble, and install the caliper, and note these items: NOTE: Make sure that the caliper pins are installed correctly. Upper caliper pin A and lower caliper pin B are different. If these caliper pins are installed in the wrong location, it will cause vibration, uneven or rapid brake pad wear, and possibly uneven tire wear.
- Do not spill brake fluid on the vehicle; it may damage the paint. If brake fluid gets on the paint, wash it off immediately with water.
- To prevent dripping brake fluid, cover disconnected hose joints with clean rags or shop towels.
- Clean all parts in brake fluid and air dry; blow out all passages with compressed air.
- Before reassembling, check that all parts are free of dirt and other foreign particles, e Replace parts with new ones as specified in the illustration.
- !Y!2ke sure no dirt or other foreign matter gets in the brake fluid.
- Make sure no grease or oil gets on the brake discs or the pads.
- When reusing brake pads, always reinstall them in their original positions to prevent loss of braking efficiency.
- Do not reuse drained brake fluid. Use only new Honda DOT 3 Brake Fluid from an unopened container. Using a non-Honda brake fluid can cause corrosion and shorten the life of the system.
- Coat the piston, the piston seal groove, and the caliper bore with clean brake fluid.
- Use recommended greases in the rear caliper set.
- After installing the caliper, check the brake hose and line for leaks, interference, and twisting.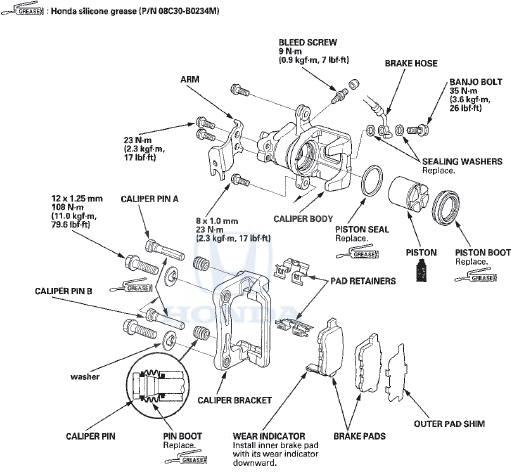 NOTE: Keep any grease off the brake disc and the brake pads. 1. Raise and support the vehicle (see page 1-13). 2. Remove the rear wheel. 3. Release the parking brake lever fully. 4. Loose ...
1. Disconnect the brake pedal position switch connector ( A ) . 2. Remove the lock pin (B) and the clevis pin (C). 3. Remove the brake pedal support member (D). 4. Remove the brake pedal bra ...
See also:
Specifications (V6 models)
Dimensions Dimensions Weights Weights Air Conditioning Air Conditioning Engine Engine *: Manual transmission Seating Capacities Seating Capacities Capacities Capacities *1 : ...
Console Accessory Power Socket Test/Replacement
NOTE: If all of the front and console accessory power sockets do not work, check the No. 1 8 (7.5 A) fuse in the driver's under-dash fuse/relay box and ground (G503) first. 1. Remove the center ...
Carrying Items in the Passenger Compartment
Store or secure all items that could be thrown around and hurt someone during a crash. Do not put any items on top of the rear shelf. They can block your view and be thrown around the vehic ...