Honda Accord: Rear Brake Caliper Overhaul
Frequent inhalation of brake pad dust, regardless of material composition, could be hazardous to your health.
- Avoid breathing dust particles.
- Never use an air hose or brush to clean brake assemblies. Use an OSHA-approved vacuum cleaner.
Remove, disassemble, inspect, reassemble, and install the caliper, and note these items: NOTE: Make sure that the caliper pins are installed correctly. Upper caliper pin A and lower caliper pin B are different. If these caliper pins are installed in the wrong location, it will cause vibration, uneven or rapid brake pad wear, and possibly uneven tire wear.
- Do not spill brake fluid on the vehicle; it may damage the paint. If brake fluid gets on the paint, wash it off immediately with water.
- To prevent dripping brake fluid, cover disconnected hose joints with clean rags or shop towels.
- Clean all parts in brake fluid and air dry; blow out all passages with compressed air.
- Before reassembling, check that all parts are free of dirt and other foreign particles, e Replace parts with new ones as specified in the illustration.
- !Y!2ke sure no dirt or other foreign matter gets in the brake fluid.
- Make sure no grease or oil gets on the brake discs or the pads.
- When reusing brake pads, always reinstall them in their original positions to prevent loss of braking efficiency.
- Do not reuse drained brake fluid. Use only new Honda DOT 3 Brake Fluid from an unopened container. Using a non-Honda brake fluid can cause corrosion and shorten the life of the system.
- Coat the piston, the piston seal groove, and the caliper bore with clean brake fluid.
- Use recommended greases in the rear caliper set.
- After installing the caliper, check the brake hose and line for leaks, interference, and twisting.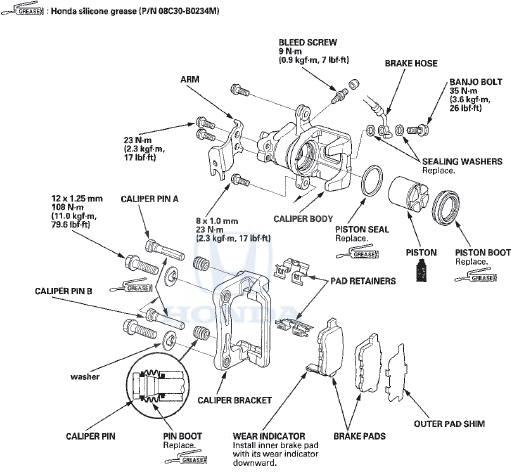 NOTE: Keep any grease off the brake disc and the brake pads. 1. Raise and support the vehicle (see page 1-13). 2. Remove the rear wheel. 3. Release the parking brake lever fully. 4. Loose ...
1. Disconnect the brake pedal position switch connector ( A ) . 2. Remove the lock pin (B) and the clevis pin (C). 3. Remove the brake pedal support member (D). 4. Remove the brake pedal bra ...
See also:
To Stop Playing a USB Flash Memory Device
To play the radio, press the FM, AM, or button. Press the CD/ AUX button to switch between disc mode (if a disc is loaded) and the USB and AUX. On models without XM Radio, press the CD butt ...
HFL Switch Test
1. Remove the driver's airbag (see page 24-211) 2. Remove the steering wheel (see page 17-6). 3. Measure the resistance between terminals No. 3 and No. 4 in each switch position according to the ...
Trunk Lid Opener/Fuel Fill Door Opener Replacement
Special Toots Required KTC Trim Tool Set SOJATP2014* *Available through the Honda Tool and Equipment Program; call 888-424-6857 NOTE: - Put on gloves to protect your hands. - Take care not t ...