Honda Accord: Intermediate Shaft Installation
1. Clean the areas where the Intermediate shaft contacts the differential thoroughly with solvent, and dry then with compressed air.
NOTE: Do not wash the rubber parts with solvent.
2. Install a new set ring (A) onto the set ring groove (B) of the intermediate shaft (C).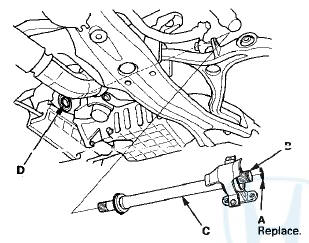 3. Insert the intermediate shaft into the differential correctly.
NOTE: Insert the intermediate shaft carefully to prevent damaging the oil seal (D).
4. Install the flange bolt (A) and the two dowel bolts (B).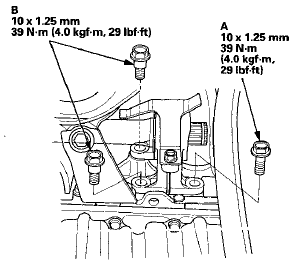 5. Install the right driveshaft (see page 16-19).
6. Refill the transmission with the recommended transmission fluid: -Manual transmission (see page 13-5) -Automatic transmission (see page 14-192) 7. Check the wheel alignment, and adjust it if necessary (see page 18-5).
8. Test-drive the vehicle.
Exploded View Special Tools Required -Oil Seal Driver 07GAD-PH70201 -Half Shaft Base 07NAF-SR30101 -Attachment 52 x 55 mm 07746-0010400 -Attachment 35 mm I.D. 07746-0030400 -Driver Handle, 15 ...
See also:
Maximum Load Limit
The maximum load for your vehicle is 850 lbs (385 kg). See Tire and Loading Information label attached to the driver's doorjamb. This figure includes the total weight of all occupants, cargo, an ...
Driveshaft Inspection
1. Check the inboard boot (A) and the outboard boot (B) on the driveshaft (C) for cracks, damage, leaking grease, and loose boot bands (D). If any damage is found, replace the boot and the boot ban ...
Sunshade Replacement
1. Remove the drain channel (see page 20-94). 2. Slide the sunshade (A) until you can see both sunshade slider spacers (B). 3. Remove the screws, then remove both sunshade slider spacers. 4. ...