Honda Accord: Ignition Switch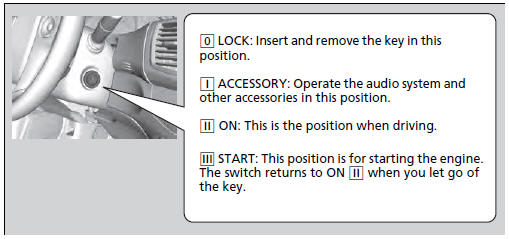 WARNING
Removing the key from the ignition switch while driving locks the steering. This can cause you to lose control of the vehicle.
Remove the key from the ignition switch only when parked.

You cannot take the key out unless the shift lever is in (P).

If you open the driver's door when the key is in LOCK

or ACCESSORY

, a warning buzzer will sound to remind you to take the key out.
If the key won't turn from LOCK
to ACCESSORY

, turn the key while moving the steering wheel left and right. The steering wheel will unlock, allowing the key to turn.
• Changing the Power Mode ENGINE START/STOP Button Operating Range You can start the engine when the smart entry remote is inside the vehicle. The engine may also run if the smart entry rem ...
See also:
Accessory Power Socket Trim Removal/Installation
Special Tools Required KTC Trim Tool Set SOJATP2014* *Available through the Honda Tool and Equipment Program; call 888-424-6857 NOTE: - Take care not to scratch the console. - Use the approp ...
Side Impact Sensor (Second) Replacement
4-Door Removal 1. Do t h e b a t t e r y t e r m i n a l d i s c o n n e c t i o n procedure (see page 22-91), t h e n w a i t at least 3 m i n u t e s before s t a r t i ng work. 2. Remove t ...
Idler Gear Shaft Removal and Installation
1. Remove the snap ring (A), the cotter retainer (B), and the 17 mm cotters (C). Do not distort the snap ring. 2. Remove the idler gear shaft/idler gear assembly (D) from the transmission housing ...