Honda Accord: How to Refuel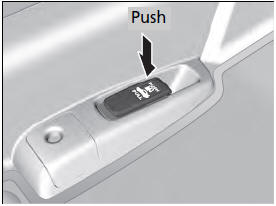 1. Stop your vehicle with the service station pump on the left side of the vehicle in the rear.
2. Turn off the engine.
3. Push on the fuel fill door release handle at the foot of the driverТs seat.
- The fuel fill door opens.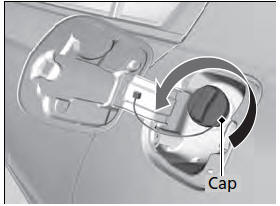 4. Remove the fuel fill cap slowly. If you hear a release of air, wait until this stops, then turn the knob slowly to open the fuel fill cap.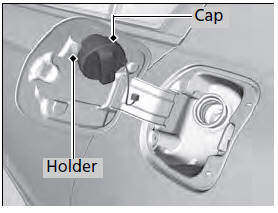 5. Place the fuel fill cap in the holder.
6. Insert the filler nozzle fully.
- When the tank is full, the fuel nozzle will click off automatically. This leaves space in the fuel tank in case the fuel expands with a change in the temperature.
7. After filling, replace the fuel fill cap, tightening it until you hear it click at least once.
- Shut the fuel fill door by hand.
WARNING
Gasoline is highly flammable and explosive.
You can be burned or seriously injured when handling fuel.
Х Stop the engine, and keep heat, sparks, and flame away.
Х Handle fuel only outdoors.
Х Wipe up spills immediately.
The filler nozzle automatically stops to leave space in the fuel tank so that fuel does not overflow as a result of changes in air temperature.
If the fuel nozzle keeps turning off when the tank is not full, there may be a problem with the pump's fuel vapor recovery system. Try filling at another pump. If this does not fix the problem, consult a dealer.
Do not continue to add fuel after the nozzle has automatically stopped. Additional fuel can exceed the full tank capacity.
Х Fuel recommendation Use of a lower octane gasoline can cause a persistent, heavy metallic knocking noise that can lead to engine damage. Х Top tier detergent gasoline Because the level of d ...
Improving Fuel Economy Fuel economy depends on several conditions, including driving conditions, your driving habits, the condition of your vehicle, and loading. Depending on these and other ...
See also:
DTC Troubleshooting
DTC 1001: FROM System info Error NOTE: вАҐ Check the vehicle battery condition first (see page 22- 9 0 ) . вАҐ Before you troubleshoot, make sure to follow the General Troubleshooting Informati ...
Inboard Joint Side
1. Wrap the splines with on the driveshaft vinyl tape (A) to prevent damaging the inboard boot. 2. Install the inboard boot onto the driveshaft, then remove the vinyl tape. Be careful not to dama ...
Brake System Inspection and Test
Inspect the brake system components listed. Repair or replace any parts that are leaking or damaged. Component Inspections: Brake System Test Brake pedal sinks/fades when braking 1. Set the pa ...