Honda Accord: Glove Box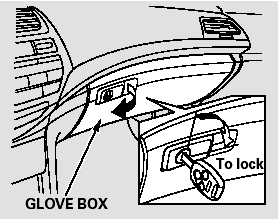 Open the glove box by pulling the handle to the left. Close it with a firm push. Lock or unlock the glove box with the master key.

An open glove box can cause serious injury to your passenger in a crash, even if the passenger is wearing the seat belt.
Always keep the glove box closed while driving.
Be careful when you are using the beverage holders. A spilled liquid that is very hot can scald you or your passengers. Spilled liquids can damage the upholstery, carpeting, and electrical c ...
See also:
General Troubleshooting Information
Troubleshooting CAN Circuit Related Problems NOTE: If you are troubleshooting multiple DTCs, be sure to follow the instructions in B-Can System Diagnosis Test Mode A (see page 22-134).. Using the ...
Starter Performance Test
1. Remove the starter (see page 4-11). 2. Firmly clamp the starter in a vise. 3. Make a connection for this test using the thickest (gauge) wire possible (preferably the same gauge as used on ...
Checking Seat Belt Fit
To determine if a lap/shoulder belt properly fits a child, have the child put on the seat belt, then ask yourself: 1. Does the child sit all the way back against the seat? 2. Do the childв ...