Honda Accord: Glove Box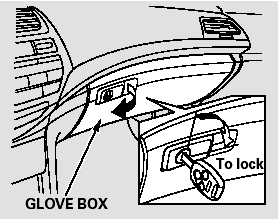 Open the glove box by pulling the handle to the left. Close it with a firm push. Lock or unlock the glove box with the master key.

An open glove box can cause serious injury to your passenger in a crash, even if the passenger is wearing the seat belt.
Always keep the glove box closed while driving.
Be careful when you are using the beverage holders. A spilled liquid that is very hot can scald you or your passengers. Spilled liquids can damage the upholstery, carpeting, and electrical c ...