Honda Accord: Glove Box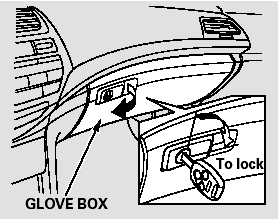 Open the glove box by pulling the handle to the left. Close it with a firm push. Lock or unlock the glove box with the master key.

An open glove box can cause serious injury to your passenger in a crash, even if the passenger is wearing the seat belt.
Always keep the glove box closed while driving.
Be careful when you are using the beverage holders. A spilled liquid that is very hot can scald you or your passengers. Spilled liquids can damage the upholstery, carpeting, and electrical c ...
See also:
A/C System Inspection
Before troubleshooting any problem with the air conditioning system, do the following: 1. With the ignition switch in LOCK (0), inspect the A/C components, the pressure lines and the hoses for sta ...
Clutch Wave-plate Phase Difference Inspection
1. Place the clutch wave-plate (A) on a surface plate, and set a dial indicator (B) on the wave-plate. 2. Find the bottom (C) of a phase difference of the wave-plate, zero the dial indicator an ...
Oil Pan Remowal
1. If the engine is already out of the vehicle, go to step 19. 2. Remove the strut brace (if equipped) (see page 20-306). 3. Do the battery removal procedure (see page 22-92). 4. Remove the ...