Honda Accord: Glove Box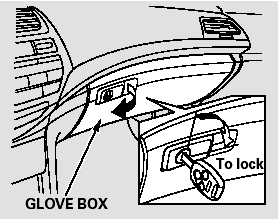 Open the glove box by pulling the handle to the left. Close it with a firm push. Lock or unlock the glove box with the master key.

An open glove box can cause serious injury to your passenger in a crash, even if the passenger is wearing the seat belt.
Always keep the glove box closed while driving.
Be careful when you are using the beverage holders. A spilled liquid that is very hot can scald you or your passengers. Spilled liquids can damage the upholstery, carpeting, and electrical c ...
See also:
Steering Wheel Disassembly/Reassembly
4-door *: With Navigation 2-door *: With Navigation ...
Checking Seat Belt Fit
To determine if a lap/shoulder belt properly fits a child, have the child put on the seat belt, then ask yourself: 1. Does the child sit all the way back against the seat? 2. Do the childв ...
Shift Lock Solenoid Test
1. Connect the HDS to the DLC (A) located under the driver's side of the dashboard. 2. Turn the ignition switch to ON (II). Make sure the HDS communicates with the PCM. If it does not, go to the ...