Honda Accord: Component Location Index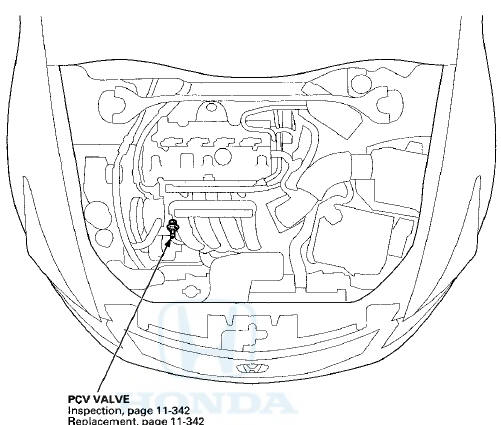 1. Check the PCV valve (A), hoses (B), and connections for leaks or restrictions. 1.PCV valve when the hose between the PCV valve and intake manifold is lightly pinched (A) with your fingers or ...
See also:
Brake System Bleeding
NOTE: - Do not reuse the drained fluid. Use only new Honda DOT 3 Brake Fluid from an unopened container. Using a non-Honda brake fluid can cause corrosion and shorten the life of the system. - ...
Anti-lock Brakes (ABS)
The anti-lock brake system (ABS) helps prevent the wheels from locking up, and helps you retain steering control by pumping the brakes rapidly, much faster than a person can do it. The elec ...
Audio Communication Line Circuit Troubleshooting
1. Turn the ignition switch to LOCK (0). 2. Disconnect climate control unit connector A (28P) and the audio-HVAC subdisplay (with navigation) or audio-HVAC display unit (without navigation) 12P ...