Honda Accord: PCV Valve Inspection
1. Check the PCV valve (A), hoses (B), and connections for leaks or restrictions.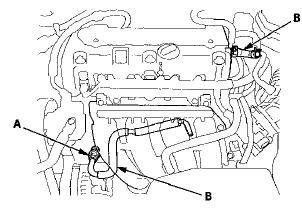 1.PCV valve when the hose between the PCV valve and intake manifold is lightly pinched (A) with your fingers or pliers.
If there is no clicking sound, check the PCV valve washer for cracks or damage. If the washer is OK, replace the PCV valve and recheck.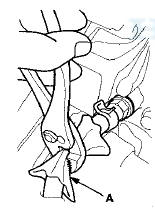 1. Disconnect the PCV hose. 2. Remove the PCV valve (A). 3. Install the parts in the reverse order of removal with a new washer (B). ...
See also:
ATF Feed Pipe Replacement
1. Remove the snap rings (A), the ATF feed pipes (B), and the feed pipe flanges (C) from the end cover (D). NOTE: Replace the end cover, if the 1st clutch ATF feed pipe (E) replacement is require ...
Front Splash Shield Replacement
NOTE: - Put on gloves to protect your hands. - Take care not to scratch the body. - When prying with a flat-tip screwdriver, wrap it with protective tape to prevent damage. - 4-door is sho ...
Steering Wheel Rotational Play Check
1. Set the front wheels in the straight ahead position. 2. Measure how far you can turn the steering wheel left and right without moving the front wheels. -If the play is within the limit, the ...