Honda Accord: PCV Valve Inspection
1. Check the PCV valve (A), hoses (B), and connections for leaks or restrictions.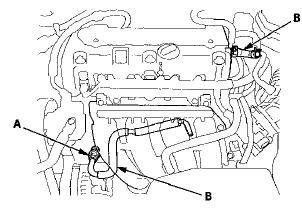 1.PCV valve when the hose between the PCV valve and intake manifold is lightly pinched (A) with your fingers or pliers.
If there is no clicking sound, check the PCV valve washer for cracks or damage. If the washer is OK, replace the PCV valve and recheck.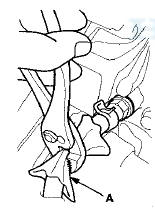 1. Disconnect the PCV hose. 2. Remove the PCV valve (A). 3. Install the parts in the reverse order of removal with a new washer (B). ...
See also:
Safety Labels
Label Locations These labels are in the locations shown. They warn you of potential hazards that can cause serious injury or death. Read these labels carefully. If a label comes off or becomes h ...
Tire Inspection
Every time you check inflation, you should also examine the tires for damage, foreign objects, and wear. You should look for: Bumps or bulges in the tread or side of the tire. Replace the tire ...
Countershaft Assembly Clearance Inspection
tightened to the specified torque (see page 13-46). 1. Measure the clearance between 1st gear (A) and the 1st gear distance collar (B) with a feeler gauge (C). - If the clearance exceeds the se ...