Honda Accord: PCV Valve Inspection
1. Check the PCV valve (A), hoses (B), and connections for leaks or restrictions.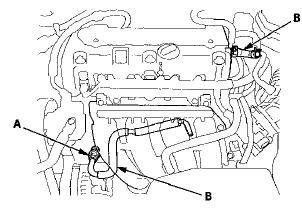 1.PCV valve when the hose between the PCV valve and intake manifold is lightly pinched (A) with your fingers or pliers.
If there is no clicking sound, check the PCV valve washer for cracks or damage. If the washer is OK, replace the PCV valve and recheck.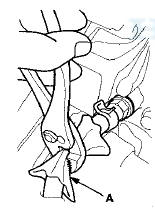 1. Disconnect the PCV hose. 2. Remove the PCV valve (A). 3. Install the parts in the reverse order of removal with a new washer (B). ...
See also:
Symptom Troubleshooting
SRS indicator does not come on NOTE: 2-door: Before replacing t h e SRS u n i t , check the SRS u n i t software v e r s i o n w i t h t h e HDS. I f t h e software v e r s i o n is not t h e lates ...
Compass Zone Selection
1. Set the power mode to ON. 2. On the top screen of any audio source, press and hold for 5 seconds. - The display switches to the Compass Settings screen. 3. Rotate to sele ...
EVAP Canister Replacement
1. Raise the vehicle on a lift. 2. Remove the wheel sensor harness clamps (A) 3. Support the rear subframe with a transmission jack and a wooden block as shown. 4. Remove the rear subframe m ...