Honda Accord: PCV Valve Inspection
1. Check the PCV valve (A), hoses (B), and connections for leaks or restrictions.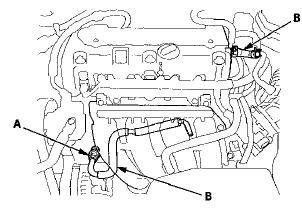 1.PCV valve when the hose between the PCV valve and intake manifold is lightly pinched (A) with your fingers or pliers.
If there is no clicking sound, check the PCV valve washer for cracks or damage. If the washer is OK, replace the PCV valve and recheck.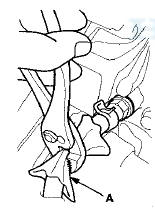 1. Disconnect the PCV hose. 2. Remove the PCV valve (A). 3. Install the parts in the reverse order of removal with a new washer (B). ...
See also:
Rear Door Outer Handle Replacement
4-door NOTE: - Put on gloves to protect your hands. - Take care not to scratch the door. 1. Remove the door panel (see page 20-38). 2. Disconnect the power door lock actuator connector (A) ...
Important Safety Precautions
Refer to the safety information that came with your garage door opener to test that the safety features are functioning properly. If you do not have this information, contact the manufacture ...
Drive Belt Inspection
1. Inspect the belt for cracks or damage. If the belt is cracked or damaged, replace it (see page 4-30). 2. Check the position of the auto-tensioner indicator's pointer (A) is within the standard ...