Honda Accord: PCV Valve Inspection
1. Check the PCV valve (A), hoses (B), and connections for leaks or restrictions.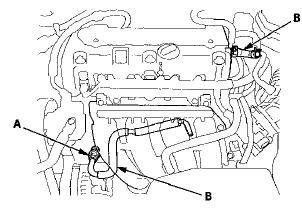 1.PCV valve when the hose between the PCV valve and intake manifold is lightly pinched (A) with your fingers or pliers.
If there is no clicking sound, check the PCV valve washer for cracks or damage. If the washer is OK, replace the PCV valve and recheck.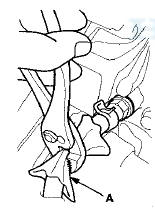 1. Disconnect the PCV hose. 2. Remove the PCV valve (A). 3. Install the parts in the reverse order of removal with a new washer (B). ...
See also:
Radio Data System (RDS)
On the FM band, you can select a favorite station and display the program service name provided by the radio data system (RDS). RDS INFO Display The RDS INFO display function shows the name ...
Countershaft Bearing Replacement
Special Tools Required -Adjustable Bearing Puller, 2 5 - 4 0 mm 07736-A01000B -Driver Handle, 15 x 135L 07749-0010000 -Attachment, 62 x 68 mm 07746-0010500 1. Remove the countershaft bearing using ...
Front Fender Fairing Replacement
For Some Models NOTE; - Take care not to scratch the body. - Put on gloves to protect your hands. 1. Remove the front Inner fender as needed (see page 20-290). 2. From the wheel arch, rele ...