Honda Accord: PCV Valve Inspection
1. Check the PCV valve (A), hoses (B), and connections for leaks or restrictions.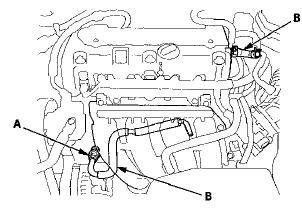 1.PCV valve when the hose between the PCV valve and intake manifold is lightly pinched (A) with your fingers or pliers.
If there is no clicking sound, check the PCV valve washer for cracks or damage. If the washer is OK, replace the PCV valve and recheck.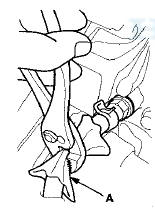 1. Disconnect the PCV hose. 2. Remove the PCV valve (A). 3. Install the parts in the reverse order of removal with a new washer (B). ...
See also:
Remote Transmitter
LOCK - Press this button once to lock both doors. Some exterior lights will flash once. When you push LOCK twice within 5 seconds, you will hear a beep to verify that the doors are locked ...
Compass Zone Selection
In most areas, there is a variation between magnetic north and true north. Zone selection is required so the compass can compensate for this variation. To check and select the zone, do this: ...
Fuel Economy
Improving Fuel Economy Fuel economy depends on several conditions, including driving conditions, your driving habits, the condition of your vehicle, and loading. Depending on these and other ...