Honda Accord: Compact Spare Tire
Use the compact spare tire as a temporary replacement only. Get your regular tire repaired or replaced, and put it back on your vehicle as soon as you can.
Check the air pressure of the compact spare tire every time you check the other tires. It should be inflated to:
60 psi (420 kPa , 4.2 kgf/cm2
Follow these precautions:
Never exceed 50 mph (80 km/h).
This tire gives a harsher ride and less traction on some road surfaces. Use greater caution while driving.
Do not mount snow chains on the compact spare tire.
Do not use your compact spare tire on another vehicle unless it is the same make andmodel.
The low tire pressure indicator comes on and stays on after you replace the flat tire with the compact spare tire. After several miles (kilometers) driving with the compact spare tire, the TPMS indicator comes on and the low tire pressure indicator goes off.)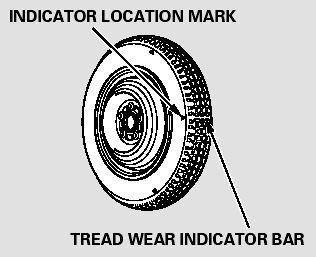 Replace the tire when you can see the tread wear indicator bars. The replacement tire should be the same size and design,mounted on the same wheel. The spare tire is not designed to be mounted on a regular wheel, and the spare wheel is not designed for mounting a regular tire.
This section covers the more common problems that motorists experience with their vehicles. It gives you information about how to safely evaluate the problem and what to do to correct it. If ...
If you have a flat tire while driving, pull over safely. Drive slowly along the shoulder until you get to an area far away from traffic lanes. The vehicle can easily roll off the jack, se ...
See also:
Introduction
One of the best ways to enhance the enjoyment of your new vehicle is to read this manual. In it, you will learn how to operate its driving controls and convenience items. Afterwards, keep this own ...
Transmission End Crankshaft Oil Seal Installation - In Car.
Special Tools Required Driver Handle, 15 x 135L 07749-0010000 Oil Seal Driver Attachment, 96 mm 07ZAD-PNAA100 1 Remove the transmission: - Manual transmission (see page 13-7) - Automatic transmis ...
Trim Removal/Installation - Trunk Area
Special Tools Required KTC Trim Tool Set SOJATP2014* * Available through the Honda Tool and Equipment Program; call 888-424-6857 NOTE: - Put on gloves to protect your hands. - Take care not ...