Honda Accord: Compact Spare Tire
Use the compact spare tire as a temporary replacement only. Get your regular tire repaired or replaced, and put it back on your vehicle as soon as you can.
Check the air pressure of the compact spare tire every time you check the other tires. It should be inflated to:
60 psi (420 kPa , 4.2 kgf/cm2
Follow these precautions:
Never exceed 50 mph (80 km/h).
This tire gives a harsher ride and less traction on some road surfaces. Use greater caution while driving.
Do not mount snow chains on the compact spare tire.
Do not use your compact spare tire on another vehicle unless it is the same make andmodel.
The low tire pressure indicator comes on and stays on after you replace the flat tire with the compact spare tire. After several miles (kilometers) driving with the compact spare tire, the TPMS indicator comes on and the low tire pressure indicator goes off.)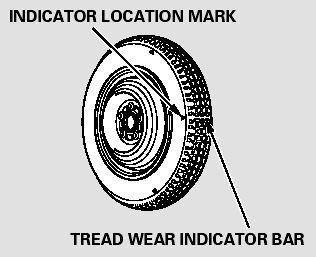 Replace the tire when you can see the tread wear indicator bars. The replacement tire should be the same size and design,mounted on the same wheel. The spare tire is not designed to be mounted on a regular wheel, and the spare wheel is not designed for mounting a regular tire.
This section covers the more common problems that motorists experience with their vehicles. It gives you information about how to safely evaluate the problem and what to do to correct it. If ...
If you have a flat tire while driving, pull over safely. Drive slowly along the shoulder until you get to an area far away from traffic lanes. The vehicle can easily roll off the jack, se ...
See also:
DTC Troubleshooting
DTC indicator 1: An Open in the Air Mix Control Motor Circuit 1. Turn the ignition switch to LOCK (0), and then to ON (II). 2. Do the self-diagnostic function with the HVAC control unit (see pa ...
B-CAN System Diagnosis Test Mode 1 and Test Mode 2 (without the HDS)
Special Tools Required MFCS (MCIC) Service Connector 07WAZ-00101 OA Test Mode 1 Check the ECM/PCM for DTCs and troubleshoot ECM/PCM (see p a g e 11-3) or F-CAN loss o f communication errors first ...
Recommended Shift Points
Drive in the highest gear that lets the engine run and accelerate smoothly. This will give you good fuel economy and effective emissions control. The following shift points are recommended: ...