Honda Accord: Changing the Wiper Blade Rubber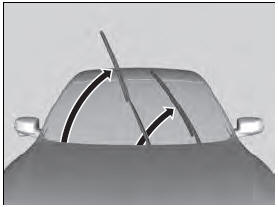 1. Lift the driver side wiper arm first, then the passenger side.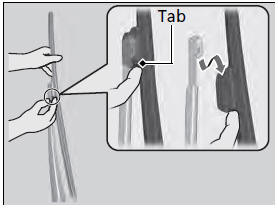 2. Press and hold the tab, then slide the blade from the wiper arm.
NOTICE
Avoid dropping the wiper arm; it may damage the windshield.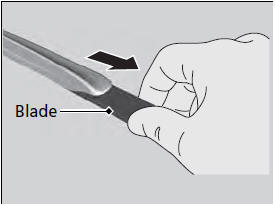 3. Slide the wiper blade out from its holder by pulling the tabbed end out.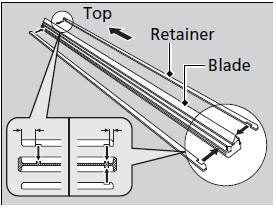 4. Remove the retainers from the rubber blade that has been removed, and mount to a new rubber blade.
- Correctly align the rubber protrusion and the retainer grooves.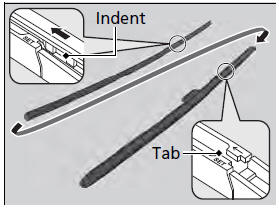 5. Slide the new wiper blade onto the holder from the bottom end.
- The tab on the holder should fit in the indent of the wiper blade.
6. Slide the wiper blade onto the wiper arm, then push down the lock tab.
7. Lower the passenger side wiper arm first, then the driver side.
If the wiper blade rubber has deteriorated, it will leave streaks and the metal wiper arm may scratch the window glass. ...
See also:
Trunk Pass-through Lid Replacement
4-door NOTE: Take care not to tear or damage the seat covers. 1. Fold down the rear seat-back. 2. Remove the screws, and release the hooks (A), then remove the trunk pass-through lid (B). 3 ...
Tensioner Pulley Replacement
1. Remove the auto-tensioner (see page 4-31). 2. Clamp the auto-tensioner (A) by using two 8 mm bolts (B) and a vise (C) as shown. Do not clamp the auto-tensioner itself, then remove the tensione ...
Wheel Bearing End Play Inspection
1. Raise and support the vehicle (see page 1-13). 2. Remove the wheels. 3 . Install suitable flat washers (A) and the wheel nuts. Tighten the nuts to the specified torque to hold the brake d ...