Honda Accord: Changing the Wiper Blade Rubber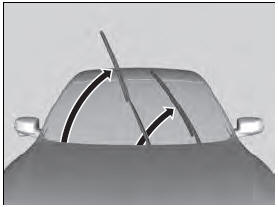 1. Lift the driver side wiper arm first, then the passenger side.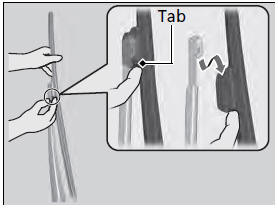 2. Press and hold the tab, then slide the blade from the wiper arm.
NOTICE
Avoid dropping the wiper arm; it may damage the windshield.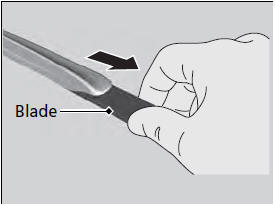 3. Slide the wiper blade out from its holder by pulling the tabbed end out.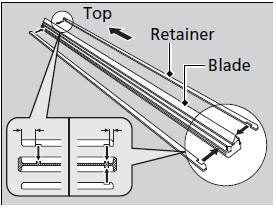 4. Remove the retainers from the rubber blade that has been removed, and mount to a new rubber blade.
- Correctly align the rubber protrusion and the retainer grooves.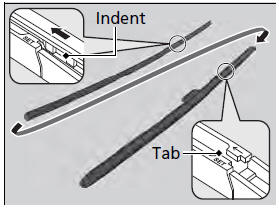 5. Slide the new wiper blade onto the holder from the bottom end.
- The tab on the holder should fit in the indent of the wiper blade.
6. Slide the wiper blade onto the wiper arm, then push down the lock tab.
7. Lower the passenger side wiper arm first, then the driver side.
If the wiper blade rubber has deteriorated, it will leave streaks and the metal wiper arm may scratch the window glass. ...
See also:
Brake System Inspection and Test
Inspect the brake system components listed. Repair or replace any parts that are leaking or damaged. Component Inspections: Brake System Test Brake pedal sinks/fades when braking 1. Set the pa ...
ELD Replacement
1. Do the battery terminal disconnection procedure (see page 22-91). 2. Remove the upper cover (A), then remove the two positive ( + ) terminals (B). 3. Remove the under-hood fuse/relay box (C ...
Clutch Master Cylinder Replacement
NOTE: - Use fender covers to avoid damaging painted surfaces. - Do not spill brake fluid on the vehicle; it may damage the paint or plastic. If brake fluid does contact the paint or plastic, ...