Honda Accord: Changing the Wiper Blade Rubber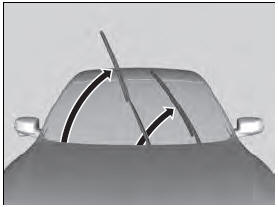 1. Lift the driver side wiper arm first, then the passenger side.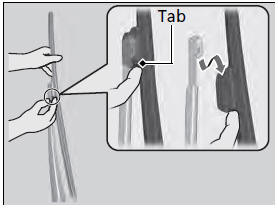 2. Press and hold the tab, then slide the blade from the wiper arm.
NOTICE
Avoid dropping the wiper arm; it may damage the windshield.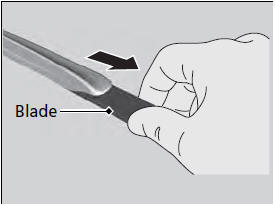 3. Slide the wiper blade out from its holder by pulling the tabbed end out.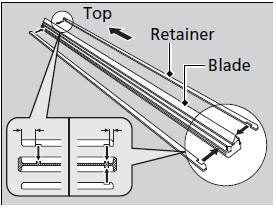 4. Remove the retainers from the rubber blade that has been removed, and mount to a new rubber blade.
- Correctly align the rubber protrusion and the retainer grooves.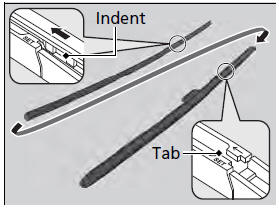 5. Slide the new wiper blade onto the holder from the bottom end.
- The tab on the holder should fit in the indent of the wiper blade.
6. Slide the wiper blade onto the wiper arm, then push down the lock tab.
7. Lower the passenger side wiper arm first, then the driver side.
If the wiper blade rubber has deteriorated, it will leave streaks and the metal wiper arm may scratch the window glass. ...
See also:
Countershaft Reverse Selector Hub and 3rd Gear Installation
Special Tools Required Driver Handle, 40 mm I.D. 07746-0030100 1. Install 2nd gear, 1st gear, 5th gear, and the 37 x 41 x 54.3 mm collar on the countershaft. 2. Slide 3rd gear (A) over the count ...
Intermediate Shaft Reassembly
Exploded View Special Tools Required -Oil Seal Driver 07GAD-PH70201 -Half Shaft Base 07NAF-SR30101 -Attachment 52 x 55 mm 07746-0010400 -Attachment 35 mm I.D. 07746-0030400 -Driver Handle, 15 ...
Sealing Bolt Installation
NOTE: When installing the sealing bolt (A), always use a new washer. ...