Honda Accord: Changing the Wiper Blade Rubber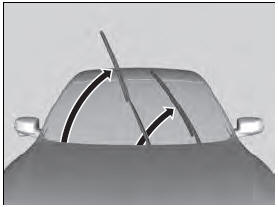 1. Lift the driver side wiper arm first, then the passenger side.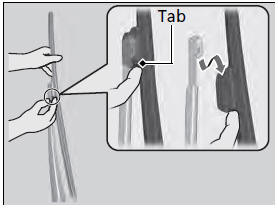 2. Press and hold the tab, then slide the blade from the wiper arm.
NOTICE
Avoid dropping the wiper arm; it may damage the windshield.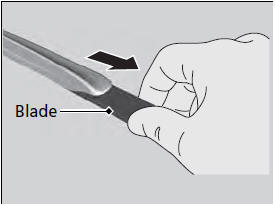 3. Slide the wiper blade out from its holder by pulling the tabbed end out.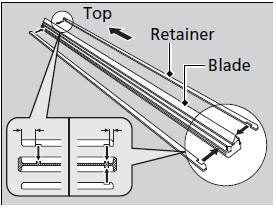 4. Remove the retainers from the rubber blade that has been removed, and mount to a new rubber blade.
- Correctly align the rubber protrusion and the retainer grooves.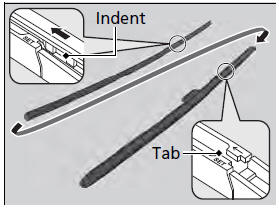 5. Slide the new wiper blade onto the holder from the bottom end.
- The tab on the holder should fit in the indent of the wiper blade.
6. Slide the wiper blade onto the wiper arm, then push down the lock tab.
7. Lower the passenger side wiper arm first, then the driver side.
If the wiper blade rubber has deteriorated, it will leave streaks and the metal wiper arm may scratch the window glass. ...
See also:
Seat Belt Maintenance
For safety, you should check the condition of your seat belts regularly. Pull each belt out fully, and look for frays, cuts, burns, and wear. Check that the latches work smoothly and the belt ...
System Description
The air conditioning (A/C) system removes heat from the passenger compartment by transferring heat from the ambient air to the evaporator. The A/C system refrigerant expands in the evaporator, and ...
Secondary Shaft Idler Gear Removal and Installation
Special Tools Required Attachment 42 mm I.D. 07QAD-P0A0100 Removal Place a spacer (A) on the secondary shaft (B), and set a puller (C) under the idler gear (D), then remove the idler gear. Ins ...