Honda Accord: Ceiling Light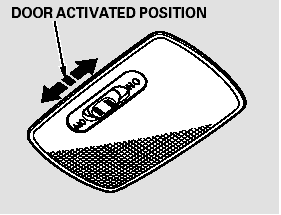 The ceiling light has a three-position switch: ON, Door Activated, and OFF. In the Door Activated (center) position, the light comes on when you:
Open either door.
Unlock the driver's door with the key or remote transmitter.
After both doors are closed tightly, the light dims slightly, then fades out in about 30 seconds.
The ceiling light (with the switch in the center position) comes on when you remove the key from the ignition switch. If you do not open a door, the light stays on, then fades out in about 30 seconds.
If you leave either door open without the key in the ignition switch, the ceiling light will go off after about 15 minutes.
Turn on a spotlight by pushing the lens. Push the lens again to turn it off. You can use the spotlights at all times. Except LX The spotlights have a two-position switch. In the DOOR pos ...
See also:
Fuel Line/Quick-Connect Fitting Removal
NOTE: Before you work on the fuel lines and fittings, read the Fuel Line/Quick-Connect Fitting Precautions (see page 11-313). 1. If equipped, remove the quick-connect fitting cover from the fuel ...
Dashboard Center Lower Cover Removal/Installation
Special Tools Required KTC Trim Tool Set SOJATP2014* *Available through the Honda Tool and Equipment Program; call 888-424-6857 SRS components are located in this area. Review the SRS component ...
ODS Unit Initialization
NOTE: • After SRS unit or ODS unit is replaced, do this procedure to initialize the ODS unit. • ODS unit initialization will initialize both OPDS sensor and front passenger's weight sensor. ...