Honda Accord: Automatic Seat Belt Tensioners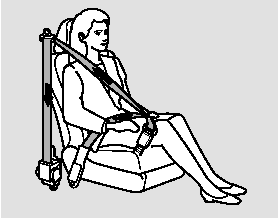 For added protection, the front seat belts are equipped with automatic seat belt tensioners. When activated, the tensioners immediately tighten the belts to help hold the driver and a front passenger in position.
The tensioners can be activated during a collision in which the front airbags do not deploy. In this case, the airbags would not be needed, but the additional restraint could be helpful.
If the tensioner is activated, the SRS indicator comes on and the tensioner must be replaced.
The lap/shoulder belt goes over your shoulder, across your chest, and across your hips. To fasten the belt, insert the latch plate into the buckle, then tug on the belt to make sure the buckl ...
For safety, you should check the condition of your seat belts regularly. Pull each belt out fully, and look for frays, cuts, burns, and wear. Check that the latches work smoothly and the belt ...
See also:
Clutch Master Cylinder Replacement
NOTE: - Use fender covers to avoid damaging painted surfaces. - Do not spill brake fluid on the vehicle; it may damage the paint or plastic. If brake fluid does contact the paint or plastic, ...
Side Turn Signal/Emergency Indicator Light Bulbs*
Door mirrors have the side turn lights. Have an authorized Honda dealer inspect and replace the light bulbs. ...
Opening the Hood
1. Park the vehicle on a level surface, and set the parking brake. 2. Pull the hood release handle under the lower left corner of the dashboard. - The hood will pop up slightly. 3. ...