Honda Accord: Automatic Seat Belt Tensioners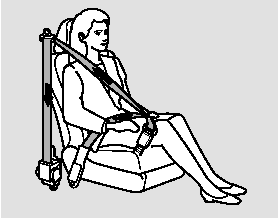 For added protection, the front seat belts are equipped with automatic seat belt tensioners. When activated, the tensioners immediately tighten the belts to help hold the driver and a front passenger in position.
The tensioners can be activated during a collision in which the front airbags do not deploy. In this case, the airbags would not be needed, but the additional restraint could be helpful.
If the tensioner is activated, the SRS indicator comes on and the tensioner must be replaced.
The lap/shoulder belt goes over your shoulder, across your chest, and across your hips. To fasten the belt, insert the latch plate into the buckle, then tug on the belt to make sure the buckl ...
For safety, you should check the condition of your seat belts regularly. Pull each belt out fully, and look for frays, cuts, burns, and wear. Check that the latches work smoothly and the belt ...
See also:
Stabilizer Bar Replacement
1. Raise and support the vehicle (see page 1-13). 2. Remove the rear wheels. 3. Disconnect both stabilizer links from the stabilizer bar (see page 18-47). 4. Remove the flange bolts (A) and ...
Automatic Climate Control Sensors
The automatic climate control system is equipped with a sunlight sensor and an interior temperature sensor. Do not cover or spill any liquid on them. ...
System Description
Body Controller Area Network (B-CAN) and Fast Controller Area Network (F-CAN) The body controller area network (B-CAN) and the fast controller area network (F-CAN) share information between mult ...