Honda Accord: Inspecting and Changing Fuses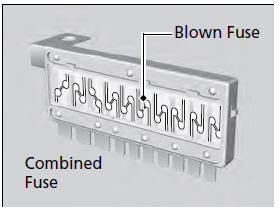 1. Turn the ignition switch to LOCK

. Turn headlights and all accessories off.
2. Remove the fuse box cover.
3. Check the large fuse in the engine compartment.
- If the fuse is blown, use a Phillips-head screwdriver to remove the screw and replace it with a new one.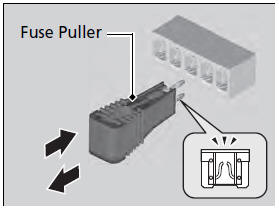 4. Inspect the small fuses in the engine compartment and the vehicle interior.
- If there is a burned out fuse, remove it with the fuse puller and replace it with a new one.
NOTICE
Replacing a fuse with one that has a higher rating greatly increases the chances of damaging the electrical system.
Replace fuse with a spare fuse of the same specified amperage.
Confirm the specified amperage using the charts on P. 564 to 565.
There is a fuse puller on the back of the engine compartment fuse box cover.