Honda Accord: Adjusting the Power Mirrors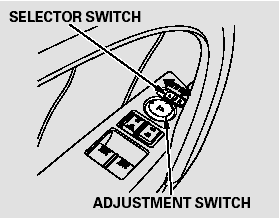 1. Turn the ignition switch to the ON (II) position.
2. Move the selector switch to L (driver's side) or R (passenger's side).
3. Push the appropriate edge of the adjustment switch to move the mirror right, left, up, or down.
4. When you finish, move the selector switch to the center (off) position. This turns the adjustment switch off to keep your settings.