Honda Accord: Storing a Driving Position in Memory
Store a driving position only when the vehicle is parked.
1. Turn the ignition switch to the ON (II) position. You cannot add a new driving position to the memory unless the ignition switch is in the ON (II) position. You can recall a memorized position with the ignition switch in any position.
2. Adjust the seat to a comfortable position.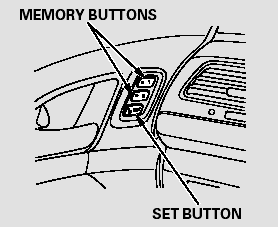 3. Press and release the SET button.
You will hear a beep. Immediately press and hold one of the memory buttons (1 or 2) until you hear two beeps. The indicator in the memory button will come on. The current position of the driver's seat is now stored.
To cancel the storing procedure after pressing the SET button, do any of the following:
Press the SET button again within 5 seconds.
Fail to press a memory button within 5 seconds.
Readjust the seat position.
Turn the ignition switch out from the ON (II) position.
Each memory button stores only one driving position. Storing a new position erases the previous setting stored in that button's memory. If you want to add a new position while retaining the current one, use the other memory button.
All stored driving positions will be lost if your vehicle's battery goes dead or is disconnected.
U.S. V6 models, and Canadian EX-L and V6 models with navigation system Your vehicle has a memory feature for the driver's seat position. Seat, except for power lumbar, position can be stored i ...
To select a memorized position, do this: 1. Make sure the parking brake is set and the shift lever is in Park (automatic). 2. Press the desired memory button (1 or 2) until you hear a beep ...
See also:
Rearview Mirror Replacement
Without Automatic Dimming Mirror 1. Turn the rearview mirror base (A) 90 °. 2. Slide the rearview mirror base (A) down toward the bottom of the windshield to detach it from the spring (B) in th ...
Deleting all HDD Data
Reset all the menu and customized settings, and delete all music data on the HDD. 1. Turn on the audio system and select the HDD mode. 2. Press the SETTINGS button. 3. Rotate to select Aud ...
Driver's Dashboard Lower Cover Removal/Installation
Special Tools Required KTC Trim Tool Set SOJATP2014* * Available through the Honda Tool and Equipment Program; call 888-424-6857 NOTE; - Take care not to scratch the dashboard or the related p ...