Honda Accord: Recommended CDs
• Use only high-quality CD-R or CD-RW discs labeled for audio use.
• Use only CD-R or CD-RW discs on which the recordings are closed.
• Play only standard round-shaped CDs.

• CDs with MP3, WMA, or AAC files
• Some software files may not allow for audio play or text data display.
• Some versions of MP3, WMA, or AAC formats may be unsupported.
iA Dual-disc cannot play on this audio unit. If recorded under certain conditions, a CD-R or CD-RW may not play either.
Manufactured under license under U.S. Patent Nos: 5,956,674; 5,974,380; 6,487,535 & other U.S. and worldwide patents issued & pending. DTS, the Symbol, & DTS and the Symbol together are registered trademarks & DTS 2.0 Channel is a trademark of DTS, Inc. Product includes software.
©DTS, Inc. All Rights Reserved.
• Protecting CDs
Follow these precautions when handling or storing CDs:
• Store a CD in its case when it is not being played.
• When wiping a CD, use a soft clean cloth from the center to the outside edge.
• Handle a CD by its edge. Never touch either surface.
• Never insert foreign objects into the CD player.
• Keep CDs out of direct sunlight and extreme heat.
• Do not place stabilizer rings or labels on the CD.
• Avoid fingerprints, liquids, and felt-tip pens on the CD.
NOTICE
Do not insert a damaged CD. It may be stuck inside and damage the audio unit.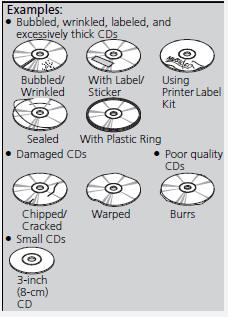 • Subscribing to XM® Radio 1. You need your radio ID ready before registering for subscription. To see the ID in the display: Turn the selector knob or the interface dial until 0 appears. 2. Ha ...
• iPod® and iPhone® Model Compatibility This system may not work with all software versions of these devices. • USB Flash Drives • Use a recommended USB flash drive of 256 MB or higher. • Som ...
See also:
Transmission Range Switch Replacement
1. Raise the vehicle on a lift, or apply the parking brake, block the rear wheels, and raise the front of the vehicle. Make sure it is securely supported. 2. Remove the left front wheel. 3. Mo ...
Symptom Troubleshooting Index
When the vehicle has one of these symptoms, check for VSA diagnostic trouble codes (DTCs) with the HDS. If there are no DTCs, do the diagnostic procedure for the symptom, in the sequence listed, ...
To Play an iPod
This audio system can select and play the audio files on the iPod with the same controls used for the disc player. To play an iPod, connect it to the USB adapter cable in the console compart ...