Honda Accord: Rear License Plate Light Bulbs
When replacing, use the following bulbs.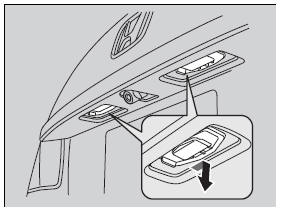 1. Remove the license plate light assembly by pushing the left edge of the lens toward the right and pulling the assembly out.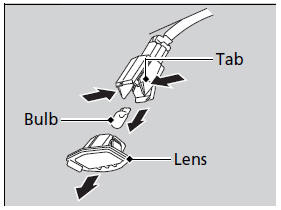 2. Remove the lens by pushing the tabs.
3. Remove the old bulb and insert a new bulb.
When replacing, use the following bulbs. 1. Remove the holding clips using a flat-tip screwdriver, then pull the lining back. 2. Turn the socket to the left and remove it. 3. Remove the ol ...
High-mount brake light bulbs are the LED type. Have an authorized Honda dealer inspect and replace the light bulbs. ...
See also:
Countershaft Reverse Selector Hub and 3rd Gear Installation
Special Tools Required Driver Handle, 40 mm I.D. 07746-0030100 1. Install 2nd gear, 1st gear, 5th gear, and the 37 x 41 x 54.3 mm collar on the countershaft. 2. Slide 3rd gear (A) over the count ...
Fog Lights
If equipped Turn the fog lights on and off by turning the switch next to the headlight switch. You can use the fog lights only when the headlights are on low beam. With the light switch in ...