Honda Accord: If the Smart Entry Remote Batteryis Weak
If the beeper sounds, the indicator on the ENGINE START/STOP button flashes, and the engine wonТt start.

The To Start, Hold Remote Near Start Button message appears on the multiinformation display.

Start the engine as follows.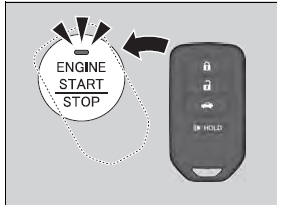 1. Touch the center of the ENGINE START/ STOP button with the H logo on the smart entry remote while the indicator on the ENGINE START/STOP button is flashing.
The buttons on the smart entry remote should be facing you.
- The indicator flashes for about 30 seconds.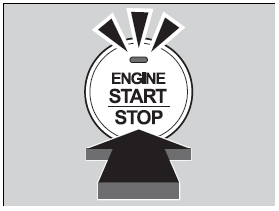 2. Depress the brake pedal (automatic transmission) or clutch pedal (manual transmission) and press the ENGINE START/STOP button within 10 seconds after the beeper sounds and the indicator stays on.
- If you donТt depress the pedal, the mode will change to ACCESSORY.

If the engine does not start, check the starter. If you must start the vehicle immediately, use an assisting vehicle to jump start it. ...
If you cannot stop the engine by pressing the ENGINE START/STOP button, do either of the following operations: Х Press and hold the ENGINE START/STOP button for about two seconds. Х Firmly pres ...
See also:
Compact Spare Tire
Use the compact spare tire as a temporary replacement only. Get your regular tire repaired or replaced, and put it back on your vehicle as soon as you can. Check the air pressure of the com ...
Transmission Number
Transmission Type 88E5: 5-speed Manual B90A: 5-speed Automatic Serial Number 3000001-: B90A 8400001-: 88E5 ...
Trunk Lid Cushion Replacement
1. Remove the trunk lid cushion (A) by pulling it out to detach the clips. 2. Replace the trunk lid cushion with a new one. 3. Install the trunk lid cushion by pushing on the clip areas until ...