Honda Accord: HazardWarning Button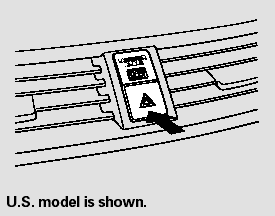 Push the button between the center vents to turn on the hazard warning lights (four-way flashers). This causes all four outside turn signals and both turn indicators in the instrument panel to flash. Use the hazard warning lights if you need to park in a dangerous area near heavy traffic, or if your vehicle is disabled.
The select/reset knob on the instrument panel controls the brightness of the instrument panel lights. Turn the knob to adjust the brightness with the ignition switch in the ON (II) positio ...
The rear window defogger will clear fog, frost, and thin ice from the window. Push the defogger button to turn it on and off. The indicator in the button comes on to show the defogger is o ...
See also:
Frame Repair Chart
Top View g2 Front floor locating hole 025 (0.98) rear h2 Front floor tunnel frame locating hole 013 (0.51) rear i Rear frame A locating hole 025 (0.98) j Rear floor locating hole 025 (0.98) k1 ...
Fuel Fill Door Adjustment
1. Slightly loosen the hinge mounting bolts (A). 2 . Adjust the fuel fill door (B) in or out until it is flush with the body, and up or down as necessary to equalize the gaps. 3. Tighten the h ...
Synchro Sleeve and Hub Inspection and Reassembly
1. Inspect the gear teeth on all synchro hubs and synchro sleeves for wear (rounded off corners). 2. Install each synchro hub (A) in its mating synchro sleeve (B), and check for free movement. Ma ...