Honda Accord: Engine Number and TransmissionNumber
See the image below for the locations of your vehicle's engine number and transmission number.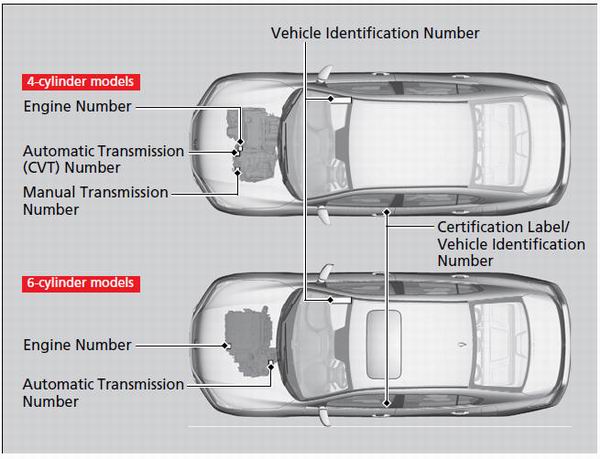 Your vehicle has a 17-digit vehicle identification number (VIN) used to register your vehicle for warranty purposes, and for licensing and insuring your vehicle. See the image below for the VI ...
The following products and systems on your vehicle emit radio waves when in operation. Each of the above complies with the appropriate requirements or the required standards of FCC (Federal Com ...
See also:
Specifications (4-cylinder models)
Dimensions Dimensions Weights Weights Air Conditioning Air Conditioning Engine Engine Seating Capacities Seating Capacities Capacities Capacities * 1: Including the coolant in ...
Balancer Shaft Inspection
1. Seat the balancer shaft by pushing it away from the oil pump sprocket end of the oil pump. 2. Zero the dial indicator against the end of the balancer shaft, then push the balancer shaft back a ...
Stabilizer Bar Replacement
1. Raise and support the vehicle (see page 1-13). 2. Remove the rear wheels. 3. Disconnect both stabilizer links from the stabilizer bar (see page 18-47). 4. Remove the flange bolts (A) and ...