Honda Accord: Engine Number and TransmissionNumber
See the image below for the locations of your vehicle's engine number and transmission number.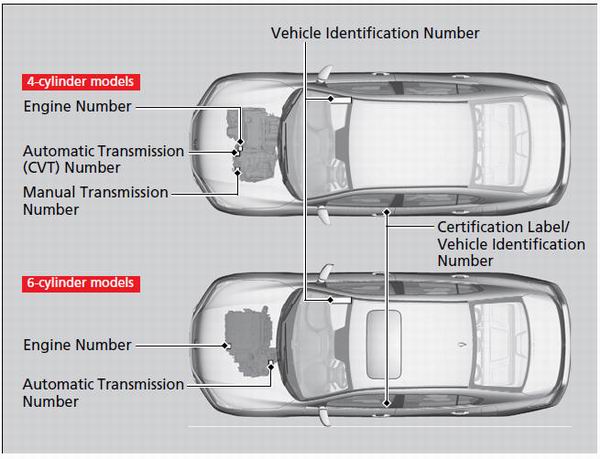 Your vehicle has a 17-digit vehicle identification number (VIN) used to register your vehicle for warranty purposes, and for licensing and insuring your vehicle. See the image below for the VI ...
The following products and systems on your vehicle emit radio waves when in operation. Each of the above complies with the appropriate requirements or the required standards of FCC (Federal Com ...
See also:
DLC Circuit Troubleshooting
NOTE: If you suspect the HDS or the HDS DLC cable may be the source of the communication probrem, verify that they are working properly by connecting them to a known-good, like vehicle and system, ...
DTC Troubleshooting
DTC P0443: EVAP Canister Purge Valve Circuit Malfunction Special Tools Required Vacuum Pump/Gauge, 0 - 3 0 In.Hg, Snap-on YA4000A or equivalent commercially available NOTE: Before you troubleshoo ...
Symptom Troubleshooting
VSA activation indicator does not go off, and no DTCs are stored NOTE: If the VSA modulator was replaced prior to the activation indicator turning on, do the VSA sensor neutral position memorizati ...