Honda Accord: Engine Number and TransmissionNumber
See the image below for the locations of your vehicle's engine number and transmission number.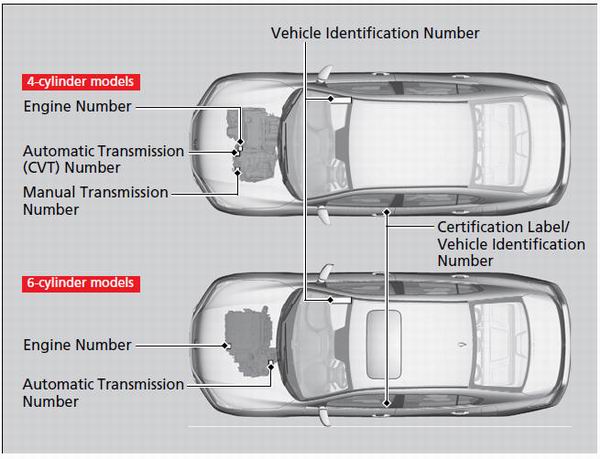 Your vehicle has a 17-digit vehicle identification number (VIN) used to register your vehicle for warranty purposes, and for licensing and insuring your vehicle. See the image below for the VI ...
The following products and systems on your vehicle emit radio waves when in operation. Each of the above complies with the appropriate requirements or the required standards of FCC (Federal Com ...
See also:
Power Window Master Switch Replacement
4-door 1. Carefully remove the power window master switch (A). 2. Disconnect the 37P connector (B) from the power window master switch, and the 13P connector (C) from the power mirror switch (D ...
Circuit Diagram
...
Front Passenger's Airbag Replacement
NOTE: If r e p l a c i n g t h e f r o n t passenger's airbag after d e p l o y m e n t , refer t o Component Replacement/ Inspection A f t e r Deployment (see page 24-208) f o r a c o m p l e t e ...