Honda Accord: Vehicle Identification Number (VIN)
Your vehicle has a 17-digit vehicle identification number (VIN) used to register your vehicle for warranty purposes, and for licensing and insuring your vehicle. See the image below for the VIN locations.
The interior vehicle identification number (VIN) is located under the cover.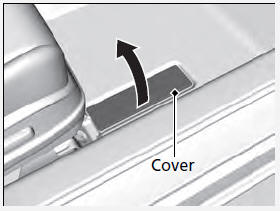 See the image below for the locations of your vehicle's engine number and transmission number. ...
See also:
Automatic Transmission
Check the fluid level with the engine at normal operating temperature. 1. Park the vehicle on level ground. Start the engine, let it run until the radiator fan comes on, then shut off the en ...
Brake and Clutch Fluid
Check the fluid level in the reservoirs monthly. There are up to two reservoirs, depending on the model. They are: Brake fluid reservoir (all models) Clutch fluid reservoir (manual transmiss ...
PCV Valve Replacement
1. Disconnect the PCV hose. 2. Remove the PCV valve (A). 3. Install the parts in the reverse order of removal with a new washer (B). ...