Honda Accord: Using a Booster Seat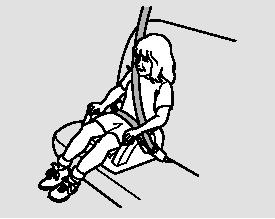 A child who has outgrown a forwardfacing child seat should ride in a back seat and use a booster seat until the lap/shoulder belt fits them properly without the booster.
Some states, Canadian provinces and territories also require children to use a booster seat until they reach a given age or weight (e.g., 6 years or 60 lbs). Be sure to check current laws in the states, provinces or territories where you intend to drive.
Booster seats can be high-back or low-back. Whichever style you select, make sure the booster seat meets federal safety standards and that you follow the booster seat maker's instructions.
If a child who uses a booster seat must ride in front, move the vehicle seat as far back as possible and be sure the child is wearing the seat belt properly.
A child may continue using a booster seat until the tops of their ears are even with the top of the vehicle's or booster's seat-back. A child of this height should be tall enough to use the lap/shoulder belt without a booster seat.
To determine if a lap/shoulder belt properly fits a child, have the child put on the seat belt, then ask yourself: 1. Does the child sit all the way back against the seat? 2. Do the child' ...
The National Highway Traffic Safety Administration and Transport Canada recommend that all children aged 12 and under be properly restrained in a back seat. If the passenger's front airbag ...
See also:
How Your Side Airbags Work
If you ever have a moderate to severe side impact, sensors will detect rapid acceleration and signal the control unit to instantly inflate either the driver's or the passenger's side airba ...
Symptom Troubleshooting
SRS indicator does not come on NOTE: 2-door: Before replacing t h e SRS u n i t , check the SRS u n i t software v e r s i o n w i t h t h e HDS. I f t h e software v e r s i o n is not t h e lates ...
Parking Brake Cable Replacement
Exploded View NOTE: - The parking brake cables must not be bent or distorted. This will lead to stiff operation and premature cable failure. - Refer to the Exploded View as needed during this ...