Honda Accord: USB Flash Memory Device Error Messages
If you see an error message on the audio display while playing a USB flash memory device, find the solution in the chart to the right. If you cannot clear the error message, take your vehicle to your dealer.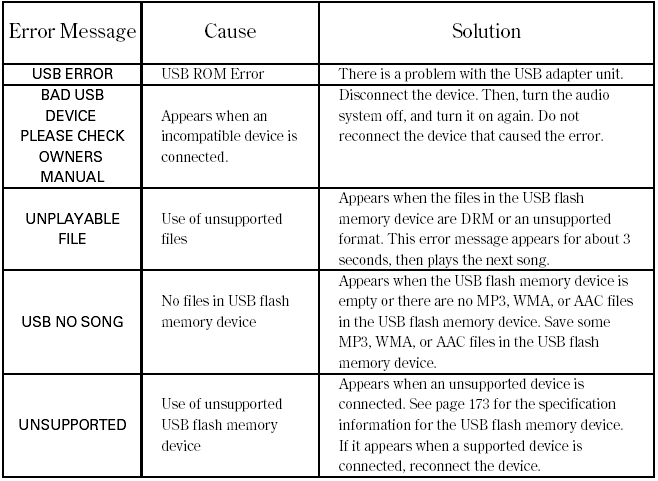 To play the radio, press the FM, AM, or button. Press the CD/ AUX button to switch between disc mode (if a disc is loaded) and the USB and AUX. On models without XM Radio, press the CD butt ...
See also:
Oil Pump Chain Replacement
NOTE: Keep the oil pump chain away from magnetic fields. Removal 1. Remove the drive belt (see page 4-30). 2. Remove the oil pan (see page 7-11). 3. Support the engine with a jack and a wood ...
Fuel Economy
Improving Fuel Economy Fuel economy depends on several conditions, including driving conditions, your driving habits, the condition of your vehicle, and loading. Depending on these and other ...
HFL Switch Test
1. Remove the driver's airbag (see page 24-211) 2. Remove the steering wheel (see page 17-6). 3. Measure the resistance between terminals No. 3 and No. 4 in each switch position according to the ...