Honda Accord: Tire Inspection
Every time you check inflation, you should also examine the tires for damage, foreign objects, and wear.
You should look for:
Bumps or bulges in the tread or side of the tire. Replace the tire if you find either of these conditions.
Cuts, splits, or cracks in the side of the tire. Replace the tire if you can see fabric or cord.
Excessive tread wear.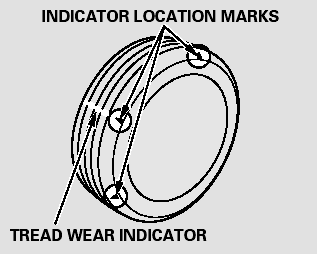 Your tires have wear indicators molded into the tread. When the tread wears down, you will see a 1/2 inch (12.7 mm) wide band across the tread. This shows there is less than 1/16 inch (1.6 mm) of tread left on the tire.
A tire this worn gives very little traction on wet roads. You should replace the tire if you can see three or more tread wear indicators.
Normal Driving The following charts show the recommended cold tire pressures for most normal driving conditions. 4-cylinder models V6 models The compact spare tire pressure is: 60 psi (42 ...
The service life of your tires is dependent on many factors, including, but not limited to, driving habits, road conditions, vehicle loading, inflation pressure, maintenance history, speed, ...
See also:
Controls Near the Steering Wheel
Controls Near the Steering Wheel ...
Selector Knob
Most audio system functions can be controlled by standard buttons, bars, and knobs. In addition, you can access some functions by using the selector knob on the audio system. The knob turns ...
Brake PadWear Indicators
The front and rear disc brakes on all models have audible brake pad wear indicators. If the brake pads need replacing, you will hear a distinctive, metallic screeching sound when you apply ...