Honda Accord: Tire Inspection
Every time you check inflation, you should also examine the tires for damage, foreign objects, and wear.
You should look for:
Bumps or bulges in the tread or side of the tire. Replace the tire if you find either of these conditions.
Cuts, splits, or cracks in the side of the tire. Replace the tire if you can see fabric or cord.
Excessive tread wear.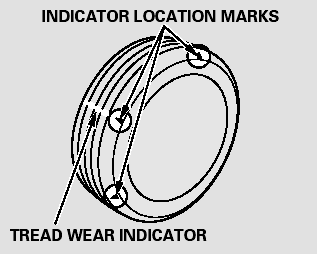 Your tires have wear indicators molded into the tread. When the tread wears down, you will see a 1/2 inch (12.7 mm) wide band across the tread. This shows there is less than 1/16 inch (1.6 mm) of tread left on the tire.
A tire this worn gives very little traction on wet roads. You should replace the tire if you can see three or more tread wear indicators.
Normal Driving The following charts show the recommended cold tire pressures for most normal driving conditions. 4-cylinder models V6 models The compact spare tire pressure is: 60 psi (42 ...
The service life of your tires is dependent on many factors, including, but not limited to, driving habits, road conditions, vehicle loading, inflation pressure, maintenance history, speed, ...
See also:
Rear Seat-back Cover Replacement
2-door NOTE: - Put on gloves to protect your hands. - Take care not to tear or damage the seat covers. 1. Remove the seat-back (see page 20-239). 2. Remove all of the head restraints. 3. ...
To Play an iPod
This audio system can select and play the audio files on the iPod with the same controls used for the disc player. To play an iPod, connect it to the USB adapter cable in the console compart ...
Balancer Shaft Inspection
1. Seat the balancer shaft by pushing it away from the oil pump sprocket end of the oil pump. 2. Zero the dial indicator against the end of the balancer shaft, then push the balancer shaft back a ...