Honda Accord: Secondary Shaft Disassembly, Inspection, and Reassembly
1. Inspect the thrust needle bearings a n d the needle bearings for g a l l i n g and rough movement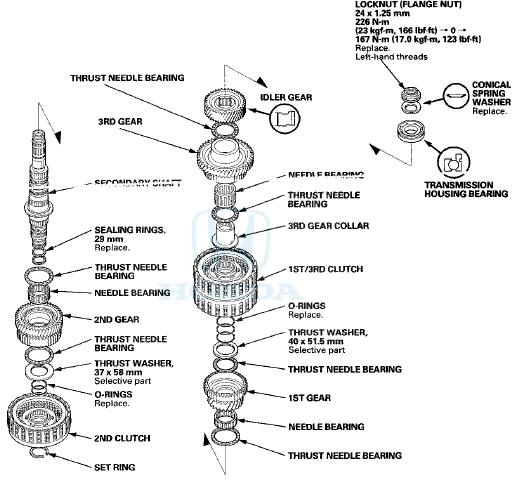 2. Inspect the splines for excessive wear and damage.
3. Check the shaft bearing surface for scoring and excessive wear.
4. Before installing new O-rings, wrap the shaft splines with tape to prevent O-ring damage.
5. Lubricate all parts with ATF during assembly.
6. Install the conical spring washer, and the idler gear in the direction shown.
7. Replace the locknut and the conical spring washer with new ones when assembling the transmission. The locknut has left-hand threads.
8. Check the clearance of 2nd gear (see page 14-294) and 1st gear (see page 14-295).
Special Tools Required Driver Handle, 40 mm I.D. 07746-0030100 1. Install 2nd gear, 1st gear, 5th gear, and the 37 x 41 x 54.3 mm collar on the countershaft. 2. Slide 3rd gear (A) over the count ...
Special Tools Required Attachment 42 mm I.D. 07QAD-P0A0100 Removal Place a spacer (A) on the secondary shaft (B), and set a puller (C) under the idler gear (D), then remove the idler gear. Ins ...
See also:
Valve Clearance Adjustment
Special Tools Required . Locknut Wrench 07MAA-PR70120 . Adjuster 07MAA-PR70110 NOTE: Connect the Honda Diagnostic System (HDS) to the data link connector (DLC) and monitor the engine coolant temp ...
Setting the Clock
On models without navigation system To set the time, press the CLOCK button until you hear a beep. The displayed time begins to blink. Change the hours by pressing the H (hour) button until th ...
Engine Number
Engine Type K24Z2: 2.4 L DOHC i-VTEC Sequential Multiport Fuel-injected, 177HP engine K24Z3: 2.4 L DOHC i-VTEC Sequential Multiport Fuel-injected, 190HP engine Serial Number 3000001 -K24Z2 pro ...