Honda Accord: Sealing Bolt Installation
NOTE: When installing the sealing bolt (A), always use a
new washer.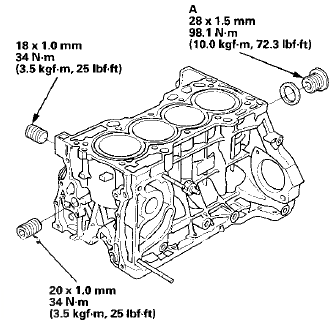 Special Tools Required Driver Handle, 15 x 135L 07749-0010000 Oil Seal Driver Attachment, 96 mm 07ZAD-PNAA100 1 Remove the transmission: - Manual transmission (see page 13-7) - Automatic transmis ...
See also:
Secondary H02S Replacement
Special Tools Required 02 Sensor Wrench Snap-on S6176 or equivalent, commercially available 1. Disconnect the secondary H02S 4P connector (A), then remove the secondary H02S (B). 2. Install the ...
Fuel Pressure Test
Special Tools Required - Fuel Pressure Gauge 07406-004000B - Fuel Pressure Gauge Attachment Set 07AAJ-S6MA150 1. Relieve the fuel pressure (see page 11-306). 2. Attach the fuel pressure gauge se ...
Damper/Spring Disassembly, Inspection, and Reassembly
Exploded View NOTE: When compressing the damper spring, use a commercially available strut spring compressor (Branick MST-580A or Model 7200, or equivalent) according to the manufacturer's ins ...