Honda Accord: Sealing Bolt Installation
NOTE: When installing the sealing bolt, always use a new washer.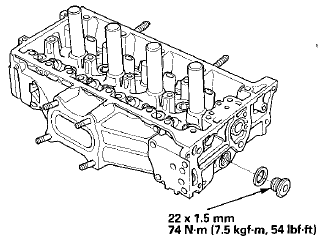 1. Install a new coolant separator (A) In the engine block whenever the engine block is replaced. 2. Clean the cylinder head and the engine block surface. 3. Install the new cylinder head gaske ...
See also:
Wheel Runout Inspection
1. Raise and support the vehicle (see page 1 -13). 2. Check for a bent or deformed wheel. 3. Set up the dial gauge as shown, and measure the axial runout by turning the wheel. Front and rear w ...
Trunk Lid Cushion Replacement
1. Remove the trunk lid cushion (A) by pulling it out to detach the clips. 2. Replace the trunk lid cushion with a new one. 3. Install the trunk lid cushion by pushing on the clip areas until ...
Fuel Tank Draining
1. Remove the fuel tank unit (see page 11 -320). 2. Using a hand pump, a hose, and a container suitable for fuel, draw the fuel from the fuel tank. 3. Reinstall the fuel tank unit (see page 11- ...