Honda Accord: Sealing Bolt Installation
NOTE: When installing the sealing bolt, always use a new washer.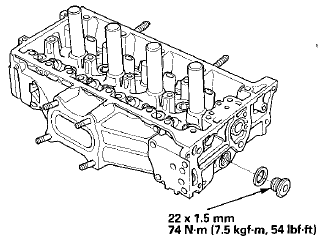 1. Install a new coolant separator (A) In the engine block whenever the engine block is replaced. 2. Clean the cylinder head and the engine block surface. 3. Install the new cylinder head gaske ...
See also:
Rear Window Replacement
NOTE: - Put on gloves to protect your hands. - Wear eye protection while cutting the glass adhesive with a piano wire. - Use seat covers to avoid damaging any surfaces. - Do not damage the ...
Wheels
Clean the wheels as you would the rest of the exterior. Wash them with the same solution, and rinse them thoroughly. Aluminum alloy wheels have a protective clear-coat that keeps the alumin ...
Rocker Arm and Shaft Disassembly/Reassembly
NOTE: - Identify each part as it is removed so that each item can be reinstalled in its original locations, a Inspect the rocker arm shaft and rocker arms (see page 6-83). - I ...